Cruises under £599 - Get a cheap cruise deal today! A cruise holiday needn't be too expensive. As well as selection of 2 and 3 night taster cruises, we also have many cruise deals under £599pp.
Just because they're cheap cruises, doesn't mean you holiday is less enjoyable, in fact when you consider all your food and entertainment is included it mean's you have an even bigger smile on your face.
Paying such a small amount for your cruise means you can really control your budget by enjoying all the facilities on the ship and just taking in the odd port of call or because you have got such a cheap cruise, or you can really go town and do a long list of excursions and indulge in a whole host of treats in the onboard Spa.
These are just a small selection of our cruise deals under £599pp, for many more search online or give us a call today.
A cheap fly cruises is a fantastic way to see more of the world and make the most of different and new destinations - cramming more ports of call into an itinerary and spending less days at sea. You can also 'tailor make' your ideal holiday to tie in with your cruise itinerary.
From a city break in Venice followed by a 7 night Adriatic cruise, to the thrills of Las Vegas before a 14 night Hawaiian adventure, the limits are endless. Many cruises depart on weekends so by incorporating a 3 night pre cruise break; you would be surprised how affordable it can be because of mid week flights. There are hundreds of cheap fly cruises to choose from many under £599pp
Also when you are booking one of our Fly cruise packages, you can do so with the peace of mind as we will take care of everything you need and we will tailor make it to suit your requirements. If you need a transfer to the ship from the airport, or if you need to hire a car, then we can arrange that for you. We also have a vast selection of hotels all over the world for you to choose from, So whether it's a quick break you are looking for or the luxury holiday of a lifetime, there is a fly cruise that is affordable for all budgets.
What our customers think:
cruise1st.co.uk is rated 4.3/5 based on 1000+ reviews from the last 12 months. Read our Reviews.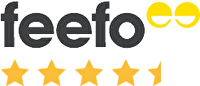 Reviews Score
Our score is based on reviews collected via Feefo, the independent customer research specialist.