Once the only way to get to America, Transatlantic cruises are now amongst the most popular cruise itineraries. Sail from the UK or Europe to a range of ports in America and the Caribbean or visa versa on a Transatlantic cruise and really get to experience all a cruise ship has to offer. With fewer ports of call than some cruises a Transatlantic cruise gives you time to really explore your ship and benefit from the on board facilities, the luxury and the glamour. With most cruise lines offering Transatlantic itineraries you can cross the Atlantic exactly how you want whether you fancy high class luxury on board a Cunard ship or a relaxed and informal crossing with a cruise line such as Thomson Cruises.

Whether you are sailing across to America or the Caribbean or cruising back to Europe you can always add a stay onto your cruise and really discover some of the most popular destinations including New York, Florida or even Barbados.

Book your Cruise before this sale event ends on Monday!
What our customers think:
cruise1st.co.uk is rated 4.3/5 based on 1000+ reviews from the last 12 months. Read our Reviews.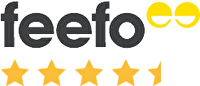 Reviews Score
Our score is based on reviews collected via Feefo, the independent customer research specialist.