Vietnam Cruises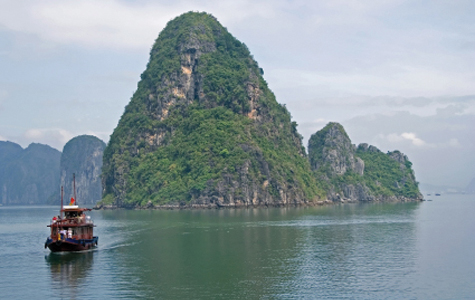 Vietnam is fast becoming a favourite destination for more and more tourists. With its rich culture, diverse and friendly people combined with spectacular landscape and beautiful beaches, it has become one of Asia's most fashionable destinations. Shaking off its turbulent past, Vietnam has improved dramatically bringing a new generation of buildings and tourist attractions which make it a wonderful cruise destination. Vietnam offers a fantastic range of activities so while you're ashore you can be certain of enjoying the Vietnamese lifestyle.
Hanoi, Vietnam's capital lies on the banks of the Red River. Vast parts were built during the French occupation and so it has a wonderful colonial feel. From here you can take in the sights of Ho Chi Minh City with Buddhist temples and see the Cham Po Nagar Towers, the glorious remains of the Hindu Cham Empire.
Da Nang has considerable charm. It combines the buzz of a city with beautiful beaches and great restaurants. Not far from here are the East China Seas and the Marble Mountains, five peaks named after the five elements of nature: metal, wood, fire, earth and water. You can also reach the wonderful ancient trading town of Hoi An with its Eastern architecture dating back to the 15thcentury and Chua Cau, the uniquely covered bridge topped with a pagoda. Hoi An is also widely known for its tailor-made suits.
Chan May is a working port and is the gateway to Da Nang, Hoi An and Hue. A visit to Hue is not to be missed. Vietnam's former capital was built along the Perfume River and has romantic inspiring history including the Forbidden City in the ancient citadel, pagodas, palaces and temples.
Cruise lines offering Cruises to Vietnam
Call 0800 230 0655 today for further information.