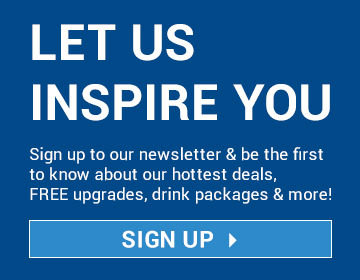 SAGA Cruises
Specialising in creating exceptional cruise experiences for discerning travellers over the age of 50, Saga Cruises provide a delightful blend of heritage-rich cultural explorations and on-board relaxation. The two ships that comprise the Saga Cruises fleet provide wonderful passage on the most beautiful seas and rivers of the world—taking guests to some of the world's most stunning destinations.
A Selection of SAGA Cruise Offers
Destinations and Excursions
The committed and accommodating crew of the Saga Cruises fleet are well-known for their ability to make all guests feel at home and comfortable on the seas. From catering to individual needs to producing a welcoming atmosphere aboard the ships, the Saga Cruises crew really go above and beyond their call of duty.
The award-winning fleet is continually evolving and improving, whilst always remaining true to the core ethics and values that typify ocean cruising. A beautiful marriage of traditional cruising experiences and modern conveniences can be found aboard the Saga Cruises fleet—explaining why guests choose to holiday with this line year after year.
With a strong focus on European cruises, the Saga Cruises fleet can most commonly be found journeying atop the waters of the Mediterranean, the Canary Islands and Scandinavia. From cultural trips around the ancient capitals of the continent to chasing the northern lights around the Norwegian Sea—the Saga Cruises fleet provides a wealth of experiences for guests.
However, that's not to say Saga Cruises can't take you further than the bosom of Europe, as the far-reaching fleet offers itineraries across the Americas, the Caribbean, and further afield. Whilst the backdrops and temperatures may change as you venture further from home, the exquisite service and on-board comfort provided by Saga Cruises never does.
Many of Saga Cruises' itineraries depart from Southampton, perfect for UK cruise fans who want to board from home shores—a great way of seeing the best of the world without ever stepping foot on a plane.