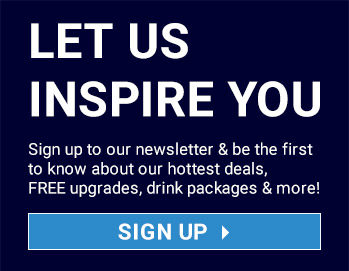 Haven Suites
NCL Haven Suites
Reserved exclusively for NCL's VIP guests, the Haven Suites is a 'ship within a ship' experience, promising the ultimate in luxury and privacy at sea. Haven by name and haven by nature, the elegant suites and five-star amenities are secluded from the rest of the ship: a pure paradise for passengers seeking time out from the hustle and bustle of everyday life.
There's never been a more exciting time to travel first class with NCL and you will figure this out as soon as you enter your Haven Suite.
Exquisite service from the moment you arrive
As soon as passengers step onboard, professional Haven Suites staff offer attentive service from morning until night. Once you've been personally escorted to your suite, a concierge will be at hand to assist with planning your days aboard and ashore. And with a dedicated butler service for every suite, NCL ensure that guests receive nothing but first-class treatment.
Dining and entertainment is a flexible affair for all VIP guests. With a variety of dining options, guests can enjoy complimentary dining at the ship's main dining areas, grills and cafés or opt to dine privately with in-suite white tablecloth service.
The unique Courtyard at the top of the ship provides a private pool, hot tub and fitness area for Haven Suites guests, as well as a chance to lounge with a cocktail and even purchase designer gifts at the Haven's exclusive boutiques.
Comfort, luxury and privacy
With VIP treatment comes a whole host of VIP accommodations, and the NCL's Haven Suites were designed with comfort, luxury and privacy in mind. While accommodations range from liner to liner, guests can be rest assured that their suite will be second to none.
From splendid marble bathrooms with in-suite hot tubs to king-size round beds with NCL's Bliss Collection bedding, extravagance and non-stop pampering. With such exquisite suites, the Haven operates a 24-hour butler service for guests who want to simply relax and enjoy the privacy of their own space.
Discover your own haven with Cruise1st today
Toying with the idea of ditching your regular summer cruise for a VIP experience at sea? If so, get in touch with Cruise1st today and discover your very own Haven Suite aboard a Norwegian Cruise Line ship.
Armed with expert knowledge and unrivalled customer service, our team will help you book an unforgettable luxury experience at an unbeatable price.
Ships featuring Haven Suites & Villas
A taste of NCL Haven Suite Cruises
Error