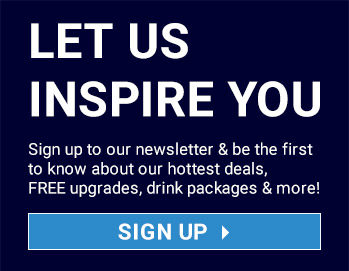 Celebrity Cruises Solstice Class

Solstice Class
Celebrity Solstice Class ships are a revolution within the cruise industry. More onboard balconies and impeccable service that is nearly a ratio of 2:1 with guests makes these ships true Modern Luxury.
The line's largest class of ships in terms of ship size and number of vessels, the Solstice Class has become an iconic cornerstone of the Celebrity Cruises fleet. Entering into service between 2008 and 2011, the five ships of the class are the Solstice, Equinox, Eclipse, Silhouette and Reflection – the latter is the largest ship in the entire Celebrity Cruises fleet.

The five ships all adhere to very similar designs, with the Reflection benefitting from the addition of an extra deck, which accommodates the 150 extra guests.

Creating a beautiful atmosphere at sea is one of the major accomplishments of the Solstice Class – largely thanks to the stunning half-acre, freshly manicured lawn on deck 15 known as The Lawn Club. Complemented by surrounding features Patio on the Lawn, Sunset Bar and The Hot Glass Show, The Lawn Club has become the focal point for the five ships.

The relaxed atmosphere of the public spaces continues into the seven different stateroom categories available aboard the Solstice Class ships, most notably the spa-inspired AquaClass and the Concierge class. With each ship featuring two Penthouse Suites and a selection of Royal Suites, there are plentiful options for guests looking to add a little extra luxury to their cruise holiday.

Additionally, the Solstice Class is one of the most environmentally-friendly classes of large cruise ships in operation. The innovative ships incorporate environmentally-conscious features such as reduced-resistance exteriors, optimised hull design, common rail diesel engines, solar panels, LED bulbs, high-efficiency air conditioning and water reduction technologies amongst others.

The capacities of the five ships range between 2,850 and 3,046 passengers, and the design of the Solstice Class differs significantly from previous Celebrity Cruises classes. Martin Francis of Francis Design was brought in to freshen up the design of the Solstice Class.

Alongside sophisticated amenities such as the 1,400 capacity theatre, glass-blowing theatre and art studio, the Solstice Class features a range of family-focussed facilities such as youth club, fun factory, and iLounge – a combination Apple store and internet café.

The Celebrity Eclipse famously rescued 2,000 British tourists who were stranded in Spain following the eruption of the Icelandic volcano Eyjafjallajökull in 2010. With UK airspace closed due to dangerous levels of ash, Celebrity Cruises lent the vessel to the rescue cause as an act of goodwill. The stranded tourists were picked up from Bilbao on April 21 and returned to Southampton on April 23

Solstice Class Cruise Deals
Solstice Class Video
Take a look at this stunning class of ships!
Error