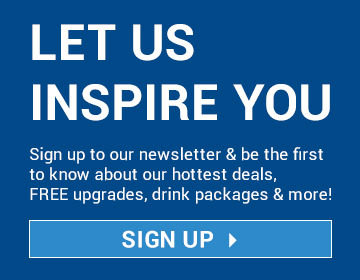 Carnival Ecstasy
The second longest-serving member of the Carnival Cruise Line fleet, the Carnival Ecstasy has been entertaining families for almost a quarter of a century. Carnival Ecstasy, along with her sister vessels, was at the forefront of the early 90s evolution of the cruise industry with the creation of fun family-friendly cruise ships. Carnival Cruise Lines have been careful to ensure that Ecstasy never falls behind newer ships – treating her to a number of refurbishments. The ship underwent refurbishment as part of the Evolution of Fun programme in 2006, and then received the Fun Ship 2.0 Enhancements in 2014.
Like all ships from the Carnival Cruise Line fleet, the Ecstasy offers comprehensive entertainment and excitement for the entire family, with activities for ages 2-17 and the breathtaking WaterWorks water park – packed with slides and splash pools.There's plenty activities for adults to enjoy as well, including the Punchliner Comedy Club as well as the Serenity Adult-Only Retreat and a relaxing spa.
A taste of Carnival Cruise deals
More About Carnival Ecstasy
Entertainment
Alongside the Punchliner Comedy Club – the Carnival Ecstasy also features a selection of entertainment venues for the whole family to enjoy. The hilarious Piano Bar invites guests to circle around a special bar top with live pianist in the middle – giving you the chance to call out requests and sing along. Alternatively, if you are looking for entertainment with a more Caribbean twist – the RedFrog Rum Bar is the perfect place to enjoy live music with a delicious cocktail concocted by one of the ship's expert mixologists.
Dining
The Carnival Ecstasy's selection of restaurants and dining options has been designed to ensure all palates and appetites are catered for. From Pizza Pirate, offering delicious but messy slices for the whole family, to the sophisticated Taste Bar – you'll be able to enjoy a different culinary delight every night.
Kids' menus are available in many of the ship's eateries as well so they can enjoy many childhood favourites including spaghetti and meatballs, chicken nuggets and hot dogs.
Kids
As a family-focussed fleet, the Carnival Ecstasy proudly boasts a number of kids clubs and entertainment amenities for the youngest members of the family alongside the Camp Ocean kids clubs which offers three age-specific clubs for kids aged 2-11, the ship also benefits from Seuss at Sea – bringing all your kids' favourite Dr Seuss characters on board.
Fancy some winter sunshine? Take a look at our winter cruises section
Carnival Ecstasy Ship Statistics
Class: Fantasy Class
Homeport: Miami, FL & Charleston, SC
Gross Tonnage: 70,367
Guest Capacity: 2,056
Crew: 920
Length: 855ft
Speed: 21 knots
A Selection of Onboard Amenities
Main Dining
The Taste Bar
Coffee Bar
Mongolian Wok
Lido Restaurant
Sea Day Brunch
Piano Bar
Camp Carnival
Punchliners Comedy Club
WaterWorks
Serenity Retreat
Atrium
Library
Internet Cafe
Art Exhibitions
Video Arcade
The Fun Shops
Dance Classes
Casino
Live Music
Karaoke
Night Club
Twister Waterslide
Mini Golf
Carnival Cruise line Video
Take a look at this amazing cruise line!