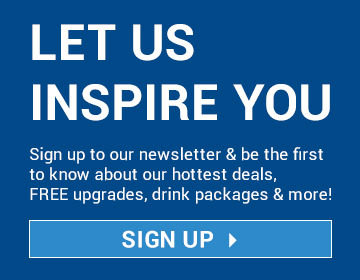 Contact Cruise1st
Please do not hesitate to get in touch with us regarding any of your cruising needs or enquiries. Here at Cruise1st, we believe that our cruise deals are second to none. We have an enormous selection of over 20,000 cruise deals for you to choose from, as far away as Australia and New Zealand to the Pacific Islands and Asia.
We can tailor a cruise holiday package around your requirements and preferences, or find the best deal available to suit your budget—whatever that may be. We also have a variety of upgrade deals, including many that offer all-inclusive packages and onboard credit deals.
At Cruise1st, we are here to make your dream cruise holiday come true! Our experienced cruise specialists are only a phone call away, and are always on hand to answer questions you may have.
Cruise1st Company Information:
Office Address:
Unit F1A
Lowry Outlet Mall
Salford Quays
M50 3AH
United Kingdom
Aftersales & Customer Service:
At Cruise1st, we hope that you'll be completely satisfied with your cruise booking experience—from the moment you pick up the phone (or your laptop) to the moment you step aboard the ship. However, if you have any questions at all, please don't hesitate to contact us using the details below and we will endeavour to resolve your query in a timely and efficient manner.
For all post booking departure queries please call our service hotline - 0161 385 7425
Email us: [email protected]
If you would like to pay your balance you can do so online here.