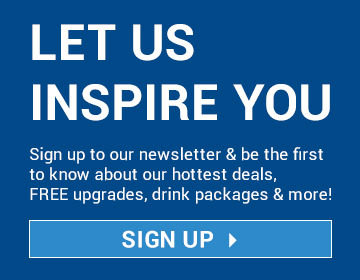 MSC Virtuosa Cruise Ship
Explore the ocean in style and luxury. On the larger end of MSC Cruises' fleet, MSC Virtuosa will sail you to exciting places, no matter the season. Thanks to the introduction and expansion of the 'MSC for Me' technology, along with ZOE (your virtual personal cruise assistant), you can travel in a totally stress-free and state-of-the-art environment.
Enjoy the amazing flavours of authentic dining, immerse yourself in the impressive entertainment options, take in the mesmerising panoramic views and explore all that this incredible ship has to offer. Similar to other MSC Cruise ships, passengers can book from a range of finely appointed cabins, from inside staterooms to the MSC Yacht Club Owner's Suite and has the highest proportion of oceanview cabins, as well as options for families and the duplex suite which has a private whirlpool bath.
a taste of MSC Virtuosa cruise deals
More About MSC Virtuosa
Boasting an innovative ocean-view aft lounge, a double-height indoor promenade with a 480 square metre LED dome, and a spectacular amusement area connected to an outdoor water park, this family-friendly cruise ship is perfectly equipped to offer the ideal mix of fun, adventure, and relaxation at sea. And if that wasn't enough reason to come onboard this magnificent ship, maybe its 96m central promenade filled with boutiques, restaurants, and tranquil spots for shopping, eating, and relaxing will do the trick. This ship comes alive with music, parties, and entertainment for all the family to enjoy!
Explore the world's most exciting destinations from a new perspective
Taking you on a Mediterranean adventure like no other, the MSC Virtuosa will introduce you to the many extraordinary sights and sounds that can be found as you sail around the Med.
No two days are ever the same
Boasting the longest LED dome at sea, an Atmosphere pool with beautiful lighting, a giant screen and atmospheric design, as well as a Horizon pool with plenty of open deck space for sun worshipping, This ship has been expertly designed to provide the ultimate cruise experience for the entire family to enjoy. There's also the MSC Aurea Spa, offering several signature relaxation treatments that are perfect for revitalizing the body, mind and soul.
MSC Virtuosa
Check out this incredible cruise ship!