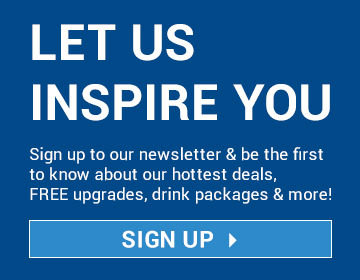 Carnival Horizon
Carnival Horizon is the 'Brand New' sister ship of the Carnival Vista and like her sister, there are so many fun activities, fabulous views and the best experiences onboard. Take full advantage of this amazing ship and all she has to offer! With 15 Decks in total offering guest staterooms, entertainment, dining and shopping, your cruise aboard Carnival Horizon will certainly be filled with fun!
a selection of Carnival cruise deals
Carnival Legend

Greek Isles Adventure
5th Sep 21 - 10 nights
Carnival Legend

Mediterranean to Baltimore Transatlantic
31st Oct 21 - 18 nights
Upgrade to oceanview from only £99pp
Carnival Legend

Mediterranean Voyage Fly Cruise
15th Oct 21 - 8 nights
More About Carnival Horizon
Dining
Excite your pallet with your included Main Dining featuring a selection of favorites. You can dine early or late, or choose Your Time Dining for whenever you feel like having a bite or a drink. The Lido restaurant is a great location offering breakfast buffet, lunch and dinner options. Enjoy a burger at Guy's Burger Joint, try a burrito at Blueiguana Cantina both included in your cruise price. If you want something out of the ordinary, then for an additional fee you can try the specialty restaurants such as Cucina Del Capitano for Italian dishes, Jiji Asian Kitchen, The Chefs Kitchen for the foodies out there, Bonsai Sushi or get your teeth into a delicious steak at Fahrenheit 555 Steakhouse!
Entertainment
Enjoy the Sportsquare with SkyRide!, Zip around a suspended two-lane bike course high above the deck. At The Clubhouse, try indoor activities like mini-bowling and arcade-style basketball or opt for soccer, volleyball and ping-pong which are just steps away. Try for a hole-in-one at SkyGreens, sink threes on the basketball court. Anyone (young and old) can enjoy the Waterworks with spiraling waterslides and more! And if that's not your thing, then chill out at the Havana Bar & pool or maybe go and see the latest blockbuster at the IMAX cinema and the grown ups can relax at the Serenity Adults-only Retreat. The Carnival Horizon has so much more to offer; from children to pensioners, everyone can have a good time.
Ship Facts:
• 15 total guest decks
• 1,977 guest cabins
• 5,070 max number of guests

Public decks:
• 3 (partial), 4, 5, 6 (partial), 7 (partial), 10 (partial), 11 (partial), 12 (partial), 14 (partial), and 15

Stateroom decks:
• 1, 2, 3, 5, 6, 7, 8, 9, 11 (partial),12 (partial)

Carnival Horizon Ship Stats:
• Gross Tonnage: 133,500
• Length:1,055 feet
• Beam:122 feet
• Cruising Speed:18 knots
• Guest Capacity (Double Occupancy): 3,954
• Total Staff: 1,450
• Registry: Panama
A Selection of Onboard Amenities
Sea Food Shack
Bonsai Sushi
Cucina Del Capitano
BlueIguana Cantina
Guy's Burger Joint
IMAX
Havana Bar & Pool
Seuss at Sea
The Punchliner Comedy Club
Cloud 9 Spa
WaterWorks
Thrill Theatre
Camp Carnival
The Fun Shops
Dance Classes
Casino
Live Music
Karaoke
Carnival Cruise Line Video