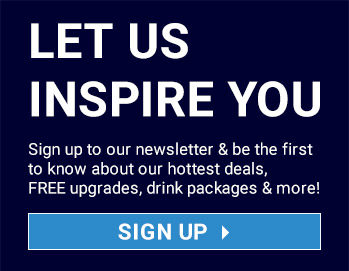 Carnival Mardi Gras
Carnival Mardi Gras is fully equipped to provide the ultimate cruise experience. Amazingly fun and infectiously exciting, the Carnival Mardi Gras ship provides the perfect environment in which to escape reality and immerse yourself in endless fun and a catalogue of heart racing activities.
a taste of Carnival cruise deals
More About Carnival Mardi Gras
With its distinct buzz and vibrant atmosphere, this cruise ship prides itself on its world-class entertainment offering a diverse range of facilities. From the RedFrog Rum Bar and the very cool Bluelguana Tequila Bar, through to the heart –racing waterslide action at Waterworks and the soul-soothing Thalassotherapy pool at the Cloud 9 Spa, there's something for everyone onboard this family-friendly ship.
On board, you'll find two dual level dining rooms: a gourmet steakhouse that's sure to get those taste buds tingling, and the Lido Restaurant that will keep those rumbling tummies at bay. And, once you've wined and dined in stunning surroundings, there's a diverse variety of entertainment options to explore throughout the ship.
Explore the world on land and at sea
Cruising is a great way to see the world from a new and exciting perspective, especially when it comes to exploring sun-drenched, tropical locations such as the western Caribbean. The Carnival Mardi Gras is the perfect way to introduce your senses to one of the world's most idyllic and exotic destinations. Offering colourful landscapes, palm tree lined beaches, and infectious vibrancy, a Carnival Mardi Gras cruise will open your eyes to a whole host of delightful sights, sounds, and new surroundings that will broaden your mind and your horizons.
A world-class service designed to accommodate your every need
Offering fun for all the family, the Carnival Mardi Gras offers a programme of fun and entertainment that will appeal to all members of the family. To ensure that you experience an amazing trip sailing the open seas, the team on board this magnificent vessel always goes above and beyond to ensure that your every need is met.
A Selection of Onboard Amenities
The Taste Bar
Chef's Table
Oceanside BBQ
Pasta Bella
Pizza Pirate
Mongolian Wok
Seaday Brunch
Coffee Bar
Seuss at Sea
The Punchliner Comedy Club
Cloud 9 Spa
WaterWorks
RedFrog Rum Bar
Seuss at Sea
Dive-in Movies
Camp Carnival
The Fun Shops
Dance Classes
Casino
Live Music
Karaoke
Carnival Cruise line Video
Take a look at this amazing cruise line!
Error