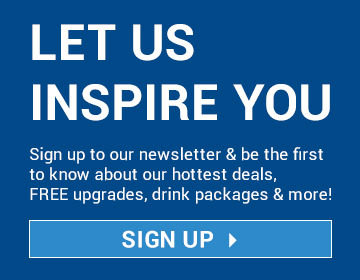 Koningsdam - Holland America
Koningsdam is one of the newest ships for the Holland American Cruise Line. Built at the Fincantieri shipyard in Italy, Koningsdam holds 2,650 guests with a 99,500 gross tonnage and she will be the new era of Pinnacle class cruising.
A TASTE OF HOLLAND AMERICA CRUISE DEALS
WHY CRUISE ON KONINGSDAM?
Koningsdam has so much to offer onboard. If you're into your wines, then visit BLEND, one of the oldest and most acclaimed winery in Washington, where you can experience the art of winemaking. Here you are able to blend your own wine and enjoy a delicious dinner whilst drinking your own blended wine. Or visit the Culinary Arts Centre where you are able to have your very own cooking station watching cooking demonstrations and hands-on classes by visiting celebrity chefs and the ship's own experts. Relax in the Greenhouse Spa & Salon, a haven of a luxurious beauty salon with spa treatments that feature thermal pools, heated ceramic lounges and treatment rooms which face the sea so you can feel the perfect relaxation treatment on a cruise trip.
If you want to work-out and keep in shape, the Koningsdam has a Fitness Centre with the latest cardio weight machines, not only they have the latest weight machines, but the Fitness Centre also features fitness classes in yoga, Pilates; with two beautiful outdoor pools, jogging tracks all around the ship and a sports court. There is so much to do on this elegant ship, let's not forget the entertainment where you are able to watch live shows at the Music Walk, the Queen's Lounge, the World Stage and much more.
Tradition and Technology
The past is what drives Koningsdam forward. Melding a storied heritage with modern design insights from world-class designer Adam D. Tihany and the legendary architect Bjørn Storbraaten, Holland America's ship is a testament to both men's talents. Vintage flourishes have been viewed through a modern lens, pairing fluid curves and clean, elegant lines with a contemporary edge, creating an atmosphere that's both welcoming and impressive.
Taking inspiration from tradition and technology alike, the focal point of the ship's architectural skill is undoubtedly its central atrium. Three storeys high, this dramatic structure takes cues from the look of a classical quartet, ending with a ceiling in which high-definition images are projected onto. Through the day, clouds playfully pass by, changing into the crystalline constellations of the sky as night begins.
Incredible Entertainment
Well known for its entertainment, Koningsdam provides guests with a bevy of night-time treats, from the soulful sounds of BB King's Blues Club to Lincoln Center Stage's sublime chamber music performances. The onboard Casino lets guests try their hand at blackjack and slot machines, while a poolside movie is perfect for guests looking for something a little bit more relaxed.
Extensive Dining
With myriad dining options onboard, Koningsdam invites its guests to savour the flavours of the world's cuisine. Flexible and varied, you could be enjoying a poolside snack and then dining on superb seafood at Sel De Mer.
From al fresco eats to Tamarind's eclectic Far East treats, foodies are in store for an extensive area of culinary delights. Share the good times with friends and family at Canaletto, an authentic Italian venue that specialises in small plates or book a table at Pinnacle Grill, an intimate, exclusive eatery that celebrates the finest fare America has to offer, from Alaskan king salmon to superb beef from Washington State's Double R Ranch.
Koningsdam Staterooms
Somewhere to rest, relax and recharge, your room is your own private retreat, and whether it's an interior cabin or a Pinnacle Suite, comfort, quiet and space come as standard. Light and open, modern flourishes such as bedside USB ports and frameless shower glass doors match perfectly with its mannered décor, creating an ambience that's inviting as it is relaxing.
Many come with ocean views and a verandah, but for those looking for something extra special, the Neptune and Pinnacle Suites provide guests with abundant space and luxury as well as access to the Neptune Lounge. This private, exclusive area is great for getting to know fellow guests, grab a drink, or peruse the library's wares, and with the services of a dedicated concierge to indulge in, this is truly a place fit for royalty.
A Selection of Onboard Amenities
Casino
Crow's Nest
Explorers Lounge
Neptune Lounge
Queen's Show Lounge
Rembrandt Show Lounge
Theatre
Lido Bar
Lido Casual Restaurant
Pinnacle Grill
Sports Bar
Terrace Grill
The Restaurant (Gourmet)
The Verandah
Wine Bar
Art Gallery
Atrium
Concierge
Culinary Arts Centre
Future Cruise Sales
Shopping Gallery
Duty-free shop
Shore Excursion Office