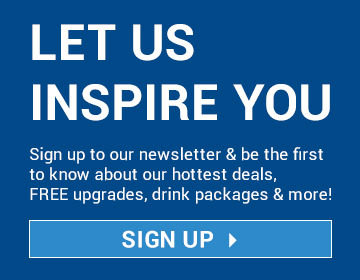 MSC Opera
Due to the recent announcement that cruise ships operating out of the United States of America will no longer be allowed to call at Cuban ports of call, MSC Cruises have anounced new wintersun sailings calling at the Canary Islands & the Eastern Mediterranean from as little as £849pp.
This fun-loving ship is sure to spark your appetite for cruising. With its easy-going atmosphere and wealth of world-class amenities, you will be able to sail the ocean in optimum comfort, luxury and style. Boasting a wide range of luxurious and stylish interiors, including rich traditional fabrics, a sweeping marble reception area, and plenty of open spaces with huge glass walls that overlook the glistening ocean, the MSC Opera really is in a class of its own.
Decked out to the highest possible standard, from the moment you set sail you'll be able to enjoy a distinct sense of operatic grandeur that is completely unique to this extraordinary vessel. Promising fun and adventure in equal measures, the MSC Opera boasts a whole host of attractions, amenities, and facilities that will add a new and exciting dimension to your ocean adventure and to ensure that you have the very best journey, all of the onboard crew, officers, entertainers, and musicians always go above and beyond to create a fantastic atmosphere.
Our Best MSC Opera Wintersun Deals
What to Expect Onboard MSC Opera
Discover the world from a new and exciting perspective
Sailing to some of the world's most magical far-flung destinations, the MSC Opera will take you on a Cuban and Caribbean adventure, introducing your senses to an endless supply of sunshine, awe-inspiring beauty spots, and white sandy beaches. Home will seem a million miles away as you explore the Caribbean's tropical landscapes on land and at sea.
Sail in modern luxury
Boasting a whole host of modern luxuries and amenities, there really is something for everyone onboard the MSC Opera and whether you spend your days splashing around in the outdoor pool, perfecting your golf skills on the mini golf course or treating yourself to a relaxing massage, you won't be disappointed by the wide choice of amenities on offer. This ship also has its very own theatre, nightclub, disco, and casino - allowing you to carry on the fun and frolics once the sun has set on another day at sea.
A Selection of Onboard Amenities
Casino
Dance Floor
Disco
Theatre
Gym
Mini golf course
Nightclub
Outdoor Pool
Grill
L'etoile
La Terrazza
Sports Bar
The Pub
Pizzeria
Fitness Equipment
Massage
Sauna
Steam Room
Sun Deck
Whirlpool
Beauty Salon
MSC Opera Video
Take a look at this feature packed ship