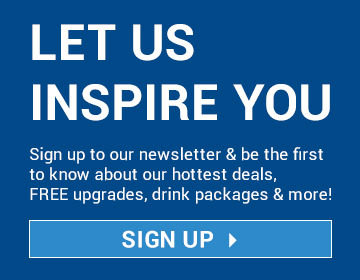 MSC Orchestra
Europe & The Grand Voyages to South Africa
Cruising the open seas, you'll be able to relax, unwind, and socialise in truly breathtaking surroundings from the moment you step on board the MSC Orchestra. In October 2019 and April 2020, MSC Orchestra relocates to South Africa for a season and as she does so, travels through some of the most famous and beautiful areas in the world, including the Seychelles, Maldives and Petra from Aqaba in Jordan. Once in Durban or Capetown, you can explore with a Victoria Falls tour, Garden Route explorer and also our famous Game Drive and 2nt Durban Umhlanga Beach stay. Incredibly popular every year in release, these tours continue to inspire and amaze new cruise customers year after year!
a taste of MSC Orchestra cruise deals
MSC Orchestra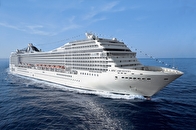 Mediterranean from Venice
2nd Oct 21 - 7 nights
*Forget About Tips! Gratuities Included!
More About MSC Orchestra
Bringing together elegant interiors and sophisticated décor, this ultra glamorous ship will allow you sail the ocean in truly special surroundings. Boasting ample deck space as well as a superb selection of amenities to enjoy at your leisure, this ship is perfectly equipped to accommodate all your cruising needs.
Taking you on a culinary journey that's sure to delight even the toughest food critics, this ship boasts a number of exquisite restaurants including the Shanghai Chinese Restaurant with authentic Dim Sum specialties, the Four Seasons gourmet Italian dining experience, and La Piazzetta, where you can enjoy the finest pizza outside Naples.
And for days when you just want to enjoy your own company, why not retreat to the Body and Mind Spa? With its Turkish baths, saunas, and a myriad of magical massages and treatments, this excellent spa will allow you to indulge in a healthy dose of TLC.
If you're more of a night owl, you'll be pleased to hear that the fun certainly doesn't stop once the sun goes down. Dedicated to making every single moment special, you'll be able to spend your evenings enjoying a spectacular show at the Covent Garden Theatre, trying your luck in the casino, or dancing to live music in the Savannah Bar.
Discover Europe, South Africa & the Indian Ocean in style and luxury
Once you've finished exploring this ship's many onboard amenities, you'll then be able to discover some of the world's most fascinating and captivating landscapes, as you take in the exciting sights and sounds of Italy, France, and Spain.
Child-friendly fun
To ensure that your little ones have just as much fun as you whilst they're on board the MSC Orchestra, there are plenty of attractions that have been designed just for children, including the Jungle Adventure playroom. There's also a dedicated Teen's club, so that your kids can mix and mingle, whilst you relax and unwind.
A Selection of Onboard Amenities
4D Cinema
Casino
Disco
Entertainment Team
Open Air Cinema
Theatre
Fitness Centre
Jogging Track
Bimini Bar
Botticelli Dining Room
Cafe
Canaletto Restaurant
Coffee Bar
Ice Cream Bar
Michelangelo Dining Room
Yacht Club
Grand Prix Simulator
Library
Spa
Solarium
Sun Deck
Swimming Pool
Thalassotherapy Pool
Whirlpool
MSC Orchestra Video
Take a look at this feature packed ship