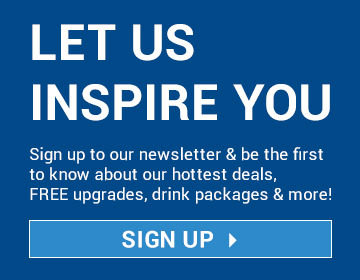 MSC Sinfonia
Bringing together a number of luxurious conveniences and world-class facilities, MSC Sinfonia will allow you escape reality in optimum style and comfort. Home will seem like a million miles away as you relax and unwind on this truly special ship. Featuring plenty of facilities that will allow you to indulge in some much-needed TLC, including the Le Terme with its cleansing sauna and the opportunity to indulge in a soothing massage, MSC Sinfonia really is the perfect retreat from the hustle and bustle of everyday life.
a taste of MSC Sinfonia cruise deals
What to Expect Onboard MSC Sinfonia
This ship offers lots of fun and exciting facilities that provide a great opportunity to learn a new skill, including the ship's state-of-the-art Virtual Golf Simulator. Perfect for beginners and seasoned professionals, you will be able to perfect your golf swing whilst floating on the ocean.
Above all, this ship is jam packed with a catalogue of family focused onboard amenities that are suitable for passengers of all ages. With its solarium, swimming pool, thalassotherapy pool, whirlpool, and jogging track, as well as plenty of evening entertainment found in the theatre, disco, and dedicated children's club, there's always something going on.
Discover the Mediterranean or South Africa
Allowing you discover the magical landscapes found in the Mediterranean and South Africa, this cruise experience will encourage you to immerse yourself in new places and cultures, as you explore the world on land and sea.
Cruise and dine in luxury and style
Whether you're cruising in the Mediterranean or South Africa, all that sea air is sure to stimulate your appetite. So you'll be pleased to hear that there are an abundance of exquisite restaurants and eateries on board this well-equipped ship. Of course, there are also plenty of excellent bars including the Irish Pub and Shelagh's House, which are ideal for dancing and mingling whilst you enjoy your favourite tipple.
A Selection of Onboard Amenities
Casino
Childrens Club
Cigar Bar
Dance Floor
Disco
Theatre
Gym
Grill
L'etoile
La Terrazza
Sports Bar
The Pub
Pizzeria
Fitness Equipment
Massage
Sauna
Solarium
Swimming Pool
Thalassotherapy Pool
Whirlpool
Jogging Track

MSC Sinfonia Video
Take a look at this feature packed ship