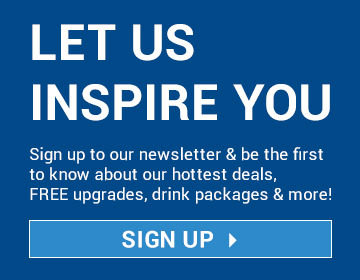 Norwegian Escape
Boasting several new and exciting spaces and interactive experiences that will instantly add a magical dimension to your cruise experience, the Norwegian Escape features a host of revolutionary attractions that will captivate and excite from the moment you step on board.
One of this ship's most popular features is The Waterfront – an industry-first oceanfront promenade lined with restaurants, bars, and stunning views. Offering non-stop action on land and at sea, this exciting ship is perfectly equipped with everything you will need to enjoy the ultimate cruise experience.
Featuring Norwegian Cruise Line's largest casino to date, the Skyline Bar, and popular dining options including Cagney's Steakhouse and Le Bistro's, the Norwegian Escape promises a cruise like no other.
a taste of Norwegian Escape cruise deals
Norwegian Escape

All Inclusive Northern Europe and Russia
25th Aug 21 - 10 nights
Fantastic Fly Cruise Offer
Norwegian Escape

Transatlantic from New York
15th Apr 21 - 16 nights
All Inclusive Cruise!
,
Includes New York city stay
,
Choose 1 extra from Speciality Dining Package, Excursion Credits or WiFi!
Discover the world from the ocean
Taking you to some of the world's most exotic locations including the Eastern Caribbean and Miami, this exciting cruise experience will allow you soak up the endless magic, charm, and character of the exotic islands dotted throughout Eastern Caribbean, as well as the many bright lights and sounds found in Miami.
Fun for everyone
This fun-packed ship boasts a whole host of facilities and amenities that are suitable for all ages to enjoy.
From the Aqua Park, the Norwegian Escape Casino, and 678 Ocean Palace through to the Skyline Bar, O'Sheehans Neighbourhood Bar, and the Vibe Beach Club, there's more than enough time for adventure, fun and relaxation and to ensure that your time onboard is special in every way, the team working on the Norwegian Escape always goes to every length to make sure that your needs are met - meaning you'll be able to sail in optimum comfort, luxury and style.
A Selection of Onboard Amenities
Main Dining
Speciality Dining
Headliners Comedy Club
Supper Club
After Midnight
Pincho Tapas Bar
The Cellars
The Waterfront
Skyline Bar
O'Sheehans Neighborhood Bar
Vibe Beach Club
Aqua Park
Norwegian Escape Casino
678 Ocean Palace
Spice H2O
Mandara Spa