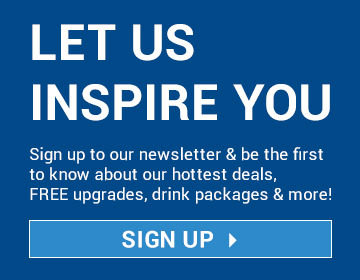 a taste of Norwegian Star cruise deals
Norwegian Star – What to do
You will find a wide variety of bars, sports activities and other diversions to keep you busy during your stay aboard Norwegian Star. Most Norwegian Cruise Line ships boast high quality health spas, and Norwegian Star is no different. You can also stay active on the basketball and volleyball courts, the golf driving net or the Oasis Pool. Enjoy a magical evening with the Vegas-style shows of the Stardust Theatre, followed by a roll of the dice or a spin of the wheel at the Star Club Casino.
Why not relax with a drink at one of Norwegian Star's many bars? The choice is impressive, from a good old pint of British beer and a delicious plate of traditional fish and chips at the Red Lion to champagne, foie gras and caviar at Gatsby's Champagne Bar. You will find cocktails at the lively Starbar, poolside refreshment at Topsiders and superb Bavarian beers at Bier Garten. Wine enthusiasts can undertake an enjoyable tasting session in Norwegian Star's wine cellar. Alcohol-free options can be found with the healthy fruit drinks and smoothies at Barong Juice Bar, or alternatively you can relax over a coffee at Java Café.
Norwegian Star – Where to eat
The ship houses two expansive dining halls, with Aqua Main Dining Room including both hearty meals and lighter healthier options, and Versailles Main Dining Room showcasing the talents of NCL's award-winning chefs. Norwegian Star is sure to have something to cater for all tastes, from the rustic Italian delights of La Cucina, to the substantial steak dinners at Cagney's Steakhouse, to the excellent French cooking served up at Le Bistro.
Arguably the most interesting dining experience can be found at Ginza Asian Restaurant. Combining Japanese, Thai and Chinese cooking styles, the restaurant's Sushi and Sake Bar and mini-restaurant Teppanyaki will prepare your meal in front of you, allowing you to fully appreciate the techniques used. Late night snacking is welcome at Blue Lagoon, open 23 hours a day, while there is of course always the option of room service.
The Staterooms of Norwegian Star
The accommodation options aboard this fine NCL cruise vessel are seemingly never ending. Choices include Garden Villas, Penthouses, Mini-Suites, Romance Suites, Owner's Suites and Family Suites, all offering luxurious apartment-style living quarters, complete with private terrace and relaxing en suite bathrooms. The Garden Villas also boast a private hot tub on the balcony.
There are also Balcony and Oceanview Staterooms available, offering delightfully soft beds that will guarantee a restful night's sleep, as well as stunning views of your idyllic ocean surroundings. The comfortable and compact Inside Staterooms complete the list of bedroom alternatives.
A Selection of Onboard Amenities
Le Bistro French Restaurant

Soho Room

Spinnakar Lounge

Star Bar

Sushi Bar

Teppanyaki

Topsiders Bar & Grill

Versailles Dining Room
Golf Nets

Library

Nightclub

Outdoor Pool

Hot Tubs

Whirlpool
Carousel Bar & Night Club

Casino

Cinema

Theatre

Video Arcade

Youth & Teen Centres

Basketball
Norwegian Cruise Line Video