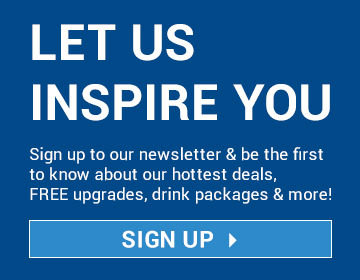 Queen Elizabeth
The most recent addition to the Cunard fleet, decorated in homage to the first Queen Elizabeth, she is a spectacular vessel on which to explore the ocean waves on wherever your destination you decide to go.
A Taste of Queen Elizabeth Cruises
Queen Elizabeth - Where To Eat & What To Do
Queen Elizabeth – What to do
With such a rich history, it is no surprise to find nods to the past so prevalent on board Queen Elizabeth, with Cunard Place offering an engaging history lesson and the Cunarder's Gallery displaying photographs of the famous faces to have set foot on board Cunard's fleet. More celebrity names from Cunard's illustrious past can be found on screen at the Classic Film Club.
Elsewhere, enjoy a relaxing day at Queen Elizabeth's famous Royal Spa, or take to the deck for a game of tennis, a swim or enter a tournament to win one of the ship's entertaining on deck games. Guests can also place their bets at the Empire Casino, or enjoy a stylish garden party on the specially created terrace at the rear of the ship. Classy afternoon tea is also a daily occurrence, complete with scones and white-gloved waiters.
Alternatively, sit back and enjoy the view in one of Queen Elizabeth's bars and lounges. The original Queen Elizabeth cruise liner is remembered in the ornate Midships Bar, while guests can enjoy a pre-dinner martini at the Commodore Club. There are all sorts of settings on Queen Elizabeth to enjoy a drink, from the very British Golden Lion pub, to drinks on your sun lounger by the Pavilion Pool or a wild night in the beautiful Yacht Club nightspot.
Queen Elizabeth – Where to eat
Grill guests always have the advantage of having a nightly reserved table at either the Queens Grill or Princess Grill, where they can take advantage of the sumptuous menu in a beautiful, exclusive setting. As far as dining experiences go, this is truly the jewel in the Cunard crown. Britannia Balcony and Britannia Oceanview customers also have access to their own private dining area, the Britannia Experience, a beautifully decorated restaurant, with its ornate staircase and dazzling chandelier making dinner quite an event.
Elsewhere, take in a delightful afternoon tea in Cunard's signature Queens Room, or enjoy a superbly indulgent pastry at Café Carinthia. For a heartier meal, the Golden Lion Pub serves traditional British fare, accompanied by an impressive array of beers and ciders. The Lido Restaurant affords the diner a unique experience for every night of your journey, with creative menus alternating nightly, each related to a different theme. Alternatively, The Verandah boasts a stunning menu of authentic French cuisine.
SUITES AND STATEROOMS
The Staterooms of Queen Elizabeth

With all the luxuries guests can experience during the day onboard Queen Elizabeth, it is only fitting that your accommodation should match this standard. Cunard cruise line ensures this is emphatically the case, with beautiful, spacious accommodation for all guests, from the palatial Queens Grill suites to the cosy Inside Staterooms. Grill customers can of course expect a few unique touches, with Queens Grill guests afforded their own personal butler. Grill rooms are the largest available onboard Queen Elizabeth, with stunning living areas and luxurious bathrooms giving way to a delightful private terrace.

Britannia Balcony customers, as you would expect, can enjoy the stunning ocean views from their own balcony, while Britannia Oceanview rooms sport a window looking out over the sea. Finally, Inside Staterooms give guests a lovely, comfortable space to retire to at the end of a long day enjoying all that Queen Elizabeth has to offer.
A Selection of Onboard Amenities
Admiral Club
All That Jazz
Casino
Dance Bar
Grand Ballroom
Deck Sports
Fitness Centre
Gym
Tennis
Royal Court Theatre
Golden Lion Pub
Britannia Club
Churchills Cigar Loung
Empire Casino
Royal Spa