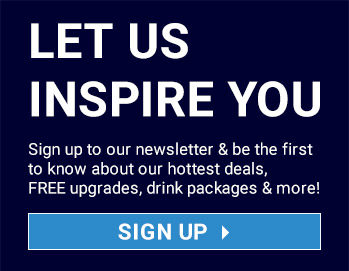 Queen Victoria
Visitors will find much to marvel at aboard Cunard's 'classic' cruise liner, Queen Victoria. Since her launch in late 2007, up to 2,000 guests at a time have stepped into the fabulous three-tiered entrance hall. Grandly decorated, it is a good indicator of the splendour to come as you embark on your journey to one of Cunard's beautiful destinations, from the sun-kissed Mediterranean to an exhilarating Transatlantic voyage.
A Taste of Queen Victoria Cruises
Queen Victoria - Where To Eat & What To Do
What to do
Spend your days enjoying the delightful variety of entertainment and things to do that the Queen Victoria has to offer. The Royal Spa offers a unique experience, with guests able to enjoy a day of pampering whilst gazing out over the surrounding sea. Further offerings for those aiming to enhance their physical wellbeing include the gymnasium, fitness classes, swimming pool, or Queen Victoria's exclusive fencing lessons.

For something a little less strenuous, join in the on-deck board games, view the collection of maritime memorabilia in the Cunardia exhibition, or try your luck in the Empire Casino. In the evenings, treat yourself to a private box in the magnificent Royal Court Theatre and enjoy the shows.

Those who prefer to sit and relax with a drink have much to choose from with Queen Victoria. For a taste of Cunard's wonderful range of teas and coffees, Café Carinthia is the place to go, while you will find no more peaceful retreat than the open air Winter Garden. For something stronger, Churchill's offers a large selection of fine whiskies, ports and rums, accompanied by one of their quality cigars. The Veuve Clicqout Champagne Bar is the ideal choice if you are looking for something sparkling, while if you want a good old pint of beer or cider then the Golden Lion pub is sure to have something to your taste.
Where to eat
Whatever the time of day, if it is quality food you want then Queen Victoria will certainly have something to savour. A breakfast time snack can be enjoyed with the selection of indulgent pastries served at Café Carinthia. For lunch, hearty British pub classics can be found on the menu at the Golden Lion, or for something a bit special, head down to the Queen Room for traditional afternoon tea.

Dinner with Queen Victoria is an experience that will delight you for every day of your voyage, with highlights including nightly themed menus at the Lido Restaurant and the splendid cuisine of renowned American chef Todd English. Grill customers are of course free to enjoy their meal in the exclusive Queens Grill and Princess Grill areas.
The Staterooms of Queen Victoria
After a busy day enjoying yourself on board Queen Victoria, you will doubtless be looking forward to a good night's sleep. Whatever style of accommodation you choose to use during your stay, Cunard cruise line takes great pride in ensuring your stay is a restful and luxurious one. For a true sense of splendour, the Queens Grill and Princess Grill Suites offer something special, with spacious living areas, splendid bathrooms, and for Queen Grill customers, a personal butler who will attend to all your needs. You also have the use of your own private terrace.

Elsewhere, Britannia Club Balcony accommodation gives the guest a beautiful balcony on which to sit and relax, and the comfortable bed is much needed after the day's exertions. Britannia Oceanview rooms offer a peaceful corner to rest and enjoy your sleep as the efforts of Queen Victoria's turn-down team ensures your bed is ready whenever you are. Inside Staterooms, the cheapest accommodation Cunard offers, are anything but basic, with a space that rivals any exclusive hotel room and five star levels of comfort waiting for you at the end of your day.
A Selection of Onboard Amenities
Childrens Play Area
Youth & Teen Centre
Casino
Disco
Royal Court Theatre
Aerobics
Fitness Centre
Pilates
Jacuzzi
Spa
Princess Grill
Queens Grill Lounge
Queens Lounge
Winter Garden High Tea
Shopping
Error