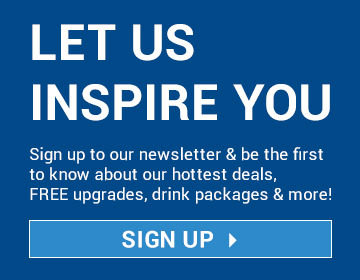 Seven Seas Explorer
Sailing to some of the world's most beautiful places, the Seven Seas Explorer will allow you embark on a journey of a lifetime, discovering new and exciting lands, people, and places. There are a whole host of luxurious amenities and facilities that will enhance your overall cruise experience. This ship is mostly aimed at adults and this is reflected in the attractions available on board. From a spacious Pool Deck that's perfect for soaking up the sunshine as you watch the world float by, through to world class entertainment encompassing a number of exciting stage shows, the Seven Seas Explorer is fully equipped to help you escape reality in optimum style and comfort.
This magnificent cruise ship also offers Gourmet Explorer Tours, which have been exclusively designed for the Seven Seas Explorer. This unique tour gives passengers the opportunity to experience the world's most delicious destinations for culinary culture, a chance to shop at local markets in the company of a knowledgeable local expert, and the opportunity to learn tricks of the trade from a chef instructor, from the Culinary Arts Kitchens.
a taste of Seven Seas Explorers cruise deals
See the world in luxury and style
The Seven Seas Explorer will allow you to discover the world in premium style and luxury. Taking you to destinations such as Barcelona, Rome, Venice, and Monte Carlo, this fabulous ship will allow you explore your new surroundings from the perspective of land and sea.
Have a dreamy stay!
Every part of this spectacular ship exudes effortless luxury, style and comfort.
To ensure that you always enjoy a great night's sleep during your stay, all of the rooms have been decked out to the highest possible standard. If you're looking to take your cruise experience up a notch, why not stay in the ship's most luxurious suite? The Regent Suite is one of the Seven Seas Explorer's top packages, offering a spacious living room, sitting area, and a beautiful private garden.
A Selection of Onboard Amenities
Culinary Arts Kitchen
Gourmet Explorer Tours
Card Room
Libary
Pool Deck
Meridan Lounge
Casino
Connoisseur Club
Constellation Theater
Explorer Lounge
Pacific Rim
Chartreuse
Prime 7
La Veranda
The Café
Pool Grill
Compass Rose
Canyon Ranch Spa Club
Fitness Center
Jogging Track & Recreation
Boutiques
Business Center
Reception & Conierge
Regent Seven Seas Explorer Video