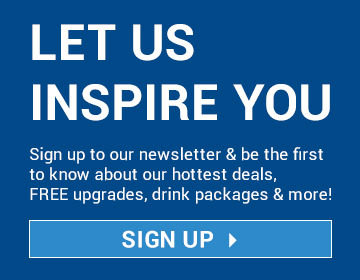 Seven Seas Navigator
The Seven Seas Navigator is a 6* ship with a gross tonnage of 28,550 and a capacity of 490 passengers. It is one of the smallest ships in the Regent Cruise fleet but it has an unusual level of luxury and some of the highest space and service ratios at sea. The Navigator sails to some tremendous locations like Africa and India, the Caribbean and Panama Canal, the Grand Crossings and the Mediterranean.
Regent Seven Seas cruises have the finest suites at sea, from Master suites with beautiful sceneries to posh marble Concierge suites; every room has high quality accomodation.
a taste of Seven Seas Navigator cruise deals
What to do on board?
There are plenty of things to do onboard the Seven Seas Navigator, why not go down to the pool deck and enjoy the beautiful sun on deck whilst drinking ice-cold refreshing cocktails where you can swim all day long. If you want to cool down, then visit the Pool Bar located on Deck 10 where you can hang out with friends and drink cocktails and frozen drinks in the shade.
Where to eat?
There are five different options for delicious dining onboard this luxurious ship, each one with a different selection of amazing food and refreshing drinks. Why not dine in the Compass Rose; a restaurant that brings breakfast, lunch and dinner to the table where it serves a variety of European-inspired continental cuisine, as well as the flavourful vegetarian and kosher dishes plus so much more.
Entertainment On board
There is plenty of entertainment onboard, get lucky in the Casino where you can play Blackjack, roulette, stud poker and more. Stroll down to the Connoisseur Club where you can pick up a posh cigar and take in the club-like atmosphere. Or spend a night in Galileo's, an ideal place for cocktails and a relaxed atmosphere where you can listen to resident musicians, have a choice of dancing, playing game shows or stay for the nights entertainment.
A Selection of Onboard Amenities
Card Room
Destination Services
Libary
Pool Bar
Pool Deck
Casino
Connoisseur Club
Galileos
Navigator Lounge
Seven Seas Lounge
Stars Lounge
Compass Rose
La Veranda
Pool Grill
Sette Mari At La Veranda
Canyon Ranch Spa Club
Fitness Facilities
Boutiques
Reception & Conierge
CLUB.com
Prime 7
Regent Seven Seas Navigator Video