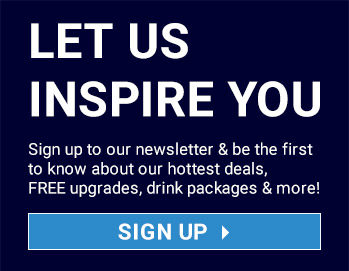 Vision of the Seas
Vision of the Seas offers the intimacy and ambiance of a smaller ship with lots of amenities found on a big ship. Sailing to the Baltics, Northern Europe, the British Isles, Western Europe, the Mediterranean, South America, and Antarctica, the Vision class 78,491-ton, 915-foot ship transports up to 2,435 passengers on their dream cruise holidays.
A taste of Vision of the Seas Cruise Deals
Vision of the Seas Food and Recreation
Vision of the Seas Recreation
The ocean view onboard Vision of the Seas are enough to keep you entertained for seven days. With glass walls lining most of the public areas on the ship, Royal Caribbean brings the gorgeous scenery into the ship, allowing you appreciate the stunning beauty outside the ship. The seven-deck atrium, known as the Centrum, offers spectacular views everywhere you turn. Two swimming pools, including the Solarium pool with all-weather retractable glass roof, and six whirlpools offer plenty of opportunities to relax in the sun. The gym is equipped with an assortment of fitness equipment as well as a dance studio where fitness classes are held.
The ship's many bars and lounges feature live music and dancing every night, and the many slots and tables in Casino Royale always offer a good time. Kids will love the Adventure Ocean program with lots of activities to keep them busy. A full spa and salon gives passengers a place to relax and unwind after a day of fun at port. Royal Caribbean's exclusive rock-climbing wall is the perfect challenge for adventurous passengers.
Vision of the Seas Food
Royal Caribbean cruises offer a wide range of all-you-can-eat meal options. In the formal dining room, you'll enjoy traditional cruise cuisine like delicious steak, chicken, and pasta entrees as well as alternative menu options for more adventurous foodies or those with diet restrictions. The Windjammer Cafe is a casual, buffet-style eatery with several different food stations to keep crowds moving and avoid congestion. If you'd rather not leave the pool, the Solarium Cafe serves pizza, burgers, and hot dogs until late.
Suites and Staterooms
Every stateroom onboard Vision of the Seas offers amenities standard to all Royal Caribbean cruises: televisions, telephones, private bathroom with shower, as well as a safe and hairdryer. For a private view of the sea, opt for an oceanview room with a picture window or a balcony room. For extra space and amenities, such as a minibar and bathtub, Vision of the Seas offers several suites.
Onboard Amenities
Day Spa & Fitness Center
Beauty Salon
Solarium
Six Whirl Pools
Rock Climbing Wall
Two Pools
Jogging Track
Outdoor Movie Screen
Boutiques
Medical Centre
Art & Photo Gallery
Royal Caribbean Online Centre
Celebrate 50 Years of Royal Caribbean
Error