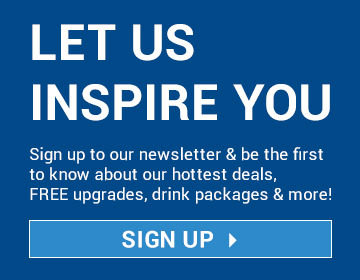 Carnival Pride
Carnival Pride is a family friendly ship that is mostly known for its eclectic surroundings, varied amenities, and spirited nature. Accommodating all your cruising requirements when it comes to fun and adventure, this ship provides the complete freedom to enjoy your cruise in a way that works for you and your family. Every part of this magnificent ship has been optimised to maximise your experience, providing the perfect setting to watch the world go by and discover new and exciting landscapes and destinations - if you can tear yourself away from the ship's extensive range of amenities, restaurants, and entertainment facilities that is! 80% of the staterooms on board this magnificent ship also boast ocean views and balconies, allowing you to enjoy ocean views from the second you open your eyes.
a taste of Carnival cruise deals
More About Carnival Pride
Fun, adventure and new experiences
Taking you to some of the world's most popular destinations, in all corners of the globe. Fun, adventure and new experiences are always on the cards, from the moment you step on board Carnival Pride.
Meet new friends, laugh and indulge in truly special surroundings
With its Seaside Theatre, an open-air movie screen where you can enjoy a catalogue of Hollywood blockbusters, and Playlist Productions theatre boasting a huge range of theatrical performances and musicals, it's safe to say that there are plenty of family-friendly entertainment options to enjoy on your journey. And your little ones won't be bored for even a second whilst they're on board the Carnival Pride. With a fantastic selection of games and entertainment facilities, as well as The WaterWorks water park where they will be able to enjoy sunny days at sea, splashing and sliding down the park's exciting water slides, there are so many opportunities for your little ones to meet new friends, step outside their comfort zone, laugh, and smile! Skip the dark and wet November nights in the UK - take a look at our November cruise departures.
Carnival Pride Ship Statistics
Class: Spirit Class
Homeport: Baltimore, MD
Gross Tonnage: 88,500
Guest Capacity: 2,124
Crew: 930
Length: 963ft
Speed: 22 knots
A Selection of Onboard Amenities
Pizzeria del Capitano
Bonsai Sushi
Fat Jimmy's C-Side BBQ
BlueIguana Cantina
Guy's Burger Joint
Mongolian Wok
Chopsticks
Coffee Bar
The Punchliner Comedy Club
Cloud 9 Spa
WaterWorks
RedFrog Pub
Seuss at Sea
Thrill Theatre
Camp Carnival
The Fun Shops
Dance Classes
Casino
Live Music
Karaoke
Carnival Cruise line Video
Take a look at this amazing cruise line!