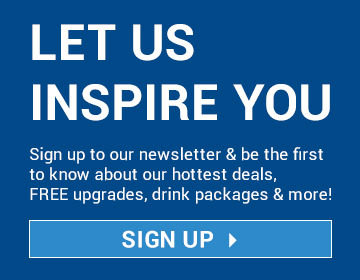 Panama Canal Cruises
A cruise to the Panama Canal must be one of the great experiences of a lifetime, as you cruise through the lush green forestry either side of this marvellous waterway. Cruise through Central America between the Pacific Ocean and the Caribbean Sea as you travel between Fort Lauderdale or Miami and San Diego or Los Angeles or the reverse.
A Taste of Cruises to Panama Canal

16nt -
All Inclusive California to Florida & Panama Canal
Norwegian Bliss, 20th Jan 22, 16 nights
All Inclusive Cruise!
,
Full Transit of The Panama Canal
,
Free Drinks, Wifi, Excursion Credit & Dining Package!

19nt -
All Inclusive Panama Canal,Central America Mexico
Norwegian Encore, 27th Oct 21, 19 nights
All Inclusive Cruise!
,
Free Drinks, Wifi, Excursion Credit & Dining Package!
Panama Canal Highlights
Your cruise ship will be lifted by a feat of mechanics aided by on-shore locomotives through three locks, passing man-made lakes; channels made through rock and dense jungle greenery.

You'll visit exotic ports of call such as Aruba where you can clearly see the Dutch heritage as well as enjoy the beautiful beaches. Sail to historical Cartagena in Colombia and Costa Rica - a destination of abundant natural wonders and shop, relax and people-watch in the town square or see divers cliff plunge gracefully into the water at La Quebrada in Acapulco.

The Panama Canal is one of cruising's most unforgettable experiences. The 51 mile long man-made canal takes a full day to cruise and will take you from Colon in the Caribbean and Panama City on the Pacific side. Make your cruise to the Panama Canal an even richer experience with a shore excursion offered by many cruise lines.
Take a stimulating ride through the brush on an off-road adventure in Oranjestad. Find refuge from the sun under a thick canopy of trees amid the calls of birds and monkeys as you hike through the Carara Biological Reserve in Puntarenas. Discover the Gatun Locks in Panama and take time out to explore the stunning surrounding area by taking a kayaking ecological tour through the islands that surround Gatun Lake.

Cruising in the Panama Canal is usually best between the months of October and April when the weather is warmer in the South and it is the dry season in Central America. You can expect temperatures to reach around 30C.
Cruise Lines to Panama Canal