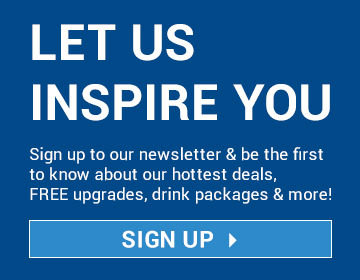 South America Cruises
Take a cruise to South America and discover a stunning continent of extremes, from the snow-capped Andes of Chile to the wild beaches, carnivals and steamy rainforests of Brazil, South America will be sure to offer you a fantastic holiday of a lifetime!
A Taste of Cruises to South America

15nt -
Grand Voyage From Lisbon to Rio de Janeiro
MSC Seaside, 18th Nov 21, 15 nights
No Need To Tip! Gratuities Now Included!

23nt -
Grand Voyage - Rio To Southampton With Rio Stay
MSC Preziosa, 4th Apr 22, 23 nights
Includes 3nts Rio de Janeiro, Brazil Hotel Stay

16nt -
Luxury All Inclusive South America Adventure
Celebrity Silhouette, 4th Dec 21, 16 nights
FREE All Inclusive!
,
5* Luxury Cruising!
A Taste Of Cruises to South America With Land Tours
Why not add one of our exclusive land tours while in South America?
Explore our selection of our land tours!


Explore South America
Cruise into Uruguay and visit cities such as Montevideo, its capital city; wander the narrow streets and admire architectural styles ranging from colonial to art deco; explore the beautiful port area and old neighbourhoods, and discover the true allure of this fantastic city.
Call at the former jet-setter's paradise of Punta del Este best known for its beautiful beaches, it boasts over 20 miles of pristine sand and surf fit for parasailing, windsurfing, snorkelling, diving and of course just lying back and enjoying the sun. While here, be sure to take advantage of the shore excursions on offer, such as a trip to Isla de Lobos - the island is home to one of the world's largest sea lion colonies.

A South American cruise will take you to Argentina where you will visit ports such as Buenos Aires with its European feel, it is full to the brim with cobbled streets, charming cafes and cosmopolitan restaurants. Make sure you experience a little of the passion of Buenos Aires by heading to a dance hall or a cafe for a quick tango class, sample the excellent cuisine at a parrillas, restaurants specialising in grilled meat and stroll down Calle Florida where you can pick up a souvenir and take a little piece of this charming destination home with you.
Call at Puerto Madryn known as the 'Galapagos of the East Coast' and admire the incredible array of wildlife and Ushuaia the southernmost town in the world and where most Antarctic expeditions begin, it stands on the edge of the Tierra del Fuego National Park with its sprawling forests, snow-capped mountains, rivers and waterfalls and is home to some of the most incredible wildlife in the world.

A cruise from South America will take you round the infamous Cape Horn where you can view the large Albatross Monument erected in honour of the sailors who died attempting to round the Horn. You will also enjoy scenic cruising through the Chilean fjords where you can admire towering glaciers and an abundance of marine birds, be sure to have your camera ready to capture the stunning beauty of this magnificent area. Whilst cruising in Chile, you will visit ports such as Puerto Chacabuco with its beautiful coastal scenery and Puerto Montt, a small provincial city right in the heart of Chile's beautiful Lake District.

Of course, no cruise to South America would be complete without visting Peru. Callao has one of the few good natural harbours on the Pacific coast and is the port for Lima, the ancient capital of Peru. Travel deeper into the country from here to visit the Incas ancient capital at Cuzco and Machu Picchu high in the Andean foothills.

If you have an all-inclusive cruise deal that includes your alcoholic drinks, they may be locally produced beers, wines and spirits, and you may have a slight surcharge if you want other luxuries such as champagne and cocktails. All-inclusive cruises are also popular with families as children can have unlimited soft drinks so parents don't need to be worried about buying children drinks all day.
Cruise Lines to South America