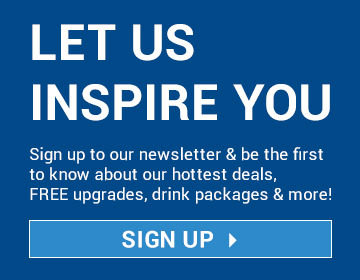 Antarctica Cruises
For a truly captivating and life changing experience, cruise the Norwegian Fjords. Observe some of the most breathtaking wildlife in the world from the stunning snow capped mountains and ancient glaciers to the beautifully historical towns and cities such as Flåm and Olden.

Discover how the sea and harsh coastal conditions have shaped the lives of those living in Norway. Time really does move at its own pace in Norway. Whilst cruising, it's highly recommended to combine shore excursions on your trip, so not to miss any of the amazing sights to see!
Appreciate the grandeur of the Norwegian Fjords with their ice-carved inlets and wonderful waterfalls such as Furebergsfossen as well as the incredible Midnight Sun with the reflection of light across the North Cape. A cruise through the Norwegian Fjords will send you to exciting places including Stavanger, Flåm, Hardangerfjord, Geirangerfjord and Bergen.
A Taste of Cruises to Antarctica
Cruise to Antarctica
All cruises to Antarctica experience scenic cruising through the Antarctic Peninsula. Expect breathtaking scenery, an amazing setting for teeming wildlife, looming mountain peaks, and impressive icebergs.
Admire the Halo phenomena, where ice crystals reflect sunlight causing beautiful rings and pillars of light which glisten like diamonds as you cruise through Paradise Harbour and Neumayer Channel - which is considered one of Antarctica's most beautiful passages. Home to majestic snow-capped mountains and offshore islands, be on the lookout for Orcas, Humpback, Minke and Gray Whales.
Cruise from Antarctica and experience a unique view of the magnificent white continent, frozen in time, and home only to Antarctic animals and Antarctic survey teams, with no permanent inhabitants residing in Antarctica, the region remains relatively untouched by man's presence. The Antarctic tourist season runs from October to April.
A Taste Of Cruises to South America With Land Tours
Why not add one of our exclusive land tours while in South America?
Explore our selection of our land tours!


Cruise Lines to Antarctica