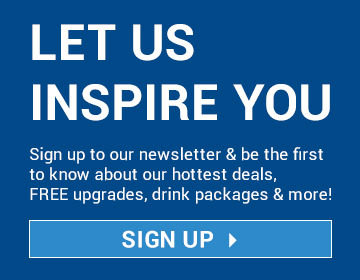 Antarctica Cruises
If you are looking for a holiday where you can completely get away from it all, then a cruise to Antarctica is for you! Escape the hustle and bustle of everyday life as you immerse yourself in the spectacular natural surroundings and stunning wildlife the Antarctic has to offer. For most people, an Antarctic Cruise is a once-in-a-lifetime holiday and what better way of experiencing this incredible destination than whilst enjoying all the top-of-the-range accommodation and activities of your luxury cruise ship.
A Taste of Cruises to Antarctica
Cruise to Antarctica
All cruises to Antarctica enjoy scenic cruising through the Antarctic Peninsula. With its breathtaking scenery, it is an amazing setting for teeming wildlife that thrives in this harsh land of great white expanse, looming mountain peaks and impressive icebergs.

Admire the Halo phenomena, in which ice crystals reflect and refract light from the sun causing it to form rings and pillars of light which glisten like diamonds as you cruise through Paradise Harbour and Neumayer Channel which is considered one of Antarctica's most beautiful passages. It is home to majestic snow capped mountains and offshore islands, be on the lookout for Orcas, Humpback, Minke and Gray Whales.

Cruise from Antarctica and experience a unique view of this whole white continent, frozen in time and home only to Antarctic animals and Antarctic survey teams, with no permanent inhabitants residing in Antarctica, the region remains relatively untouched by man's presence. The Antarctic tourist season runs from October to April.
A Taste Of Cruises to South America With Land Tours
Why not add one of our exclusive land tours while in South America?
Explore our selection of our land tours!


Cruise Lines to Antarctica