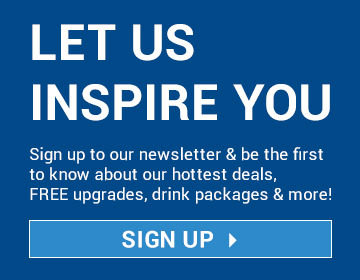 Oosterdam - Holland America
Embracing the very latest industry and environmental technologies, Oosterdam has mastered the art of sophisticated cruising - allowing passengers to enjoy striking flower arrangements, priceless artwork and antiques, and a full wraparound teak promenade deck, complete with lots of padded deck chairs. Officially christened in 2003 by Her Dutch Royal Highness Princess Margriet of the Netherlands, Oosterdam boasts a whole host of special focal points including the awe-inspiring crystal globe, prominently displayed in a three-story atrium.
A TASTE OF HOLLAND AMERICA CRUISE DEALS
More About OOSTERDAM
Perfect for first time or experienced cruise passengers, life onboard this special ship is sure to give you a bug for cruising. Allowing you to enjoy a whole new world of fun, adventure, and sophistication on land and at sea, step onboard this popular ship and take advantage of a vast selection of onboard amenities. From the Explorer's Lounge, Queen's Show Lounge, and Neptune Lounge, through to the ship's onboard night club, wraparound promenade deck, and art gallery, your days at sea will be far from boring.
Discover where Oosterdam sail's to
Taking you to destinations such as the Eastern & Western Caribbean, Seattle and Alaska, Hawaii and the Mexican Riveria, this magnificent cruise ship will allow you to immerse yourself in new landscapes, experiences, and cultures as you travel from destination to destination
Relax and unwind in optimum comfort
With plenty of onboard amenities to keep you busy all day long including the Canaletto Restaurant, the Explorations Café, and the Observation Deck, there's always something happening onboard this exciting ship! Once the sun sets on another day at sea, you'll be able to retreat to your cabin and enjoy a whole host of premium home-from-home comforts that will ensure that you always get a great night's sleep.
Oosterdam Ship Facts
Ship's Registry: The Netherlands
Guest capacity: 1,964
Gross Tonnage: 82,305 grt.
Length: 936 feet
Beam: 105.8 feet
Maximum speed: 24 knots
A Selection of Onboard Amenities
Casino
Crow's Nest
Explorers Lounge
Neptune Lounge
Night Club
Queen's Show Lounge
Vista Show Lounge
Canaletto Restaurant
Explorations Cafe
Grill
Lido Bar
Lido Casual Restaurant
Piano Bar
Pinnacle Grill
Sports Bar
Art Gallery
Duty-free shop
Atrium
Observation Deck
Photo Gallery
Shopping Gallery
Shore Excursion Office
Wrap Around Promenade Deck
Oosterdam Video
Take a look at this feature packed ship