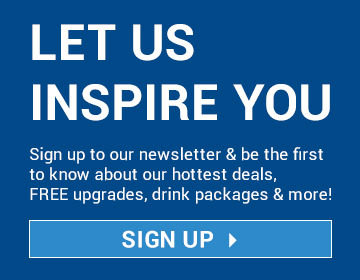 Rotterdam - Holland America
Step onboard Rotterdam and your entire cruise experience will be defined by spacious, artfully appointed public areas and the latest signature of excellence venues, features, and amenities. Allowing passengers to enjoy an exquisite art and antique collection of two million pieces, wide teak decks and spacious staterooms with private verandas, as well as an elegant formal dining space, you'll be able to cruise the open ocean in ultimate style and luxury.
Bringing together a whole host of classic cruise ship features and state-of-the-art amenities, this ship provides the ultimate setting in which to relax, dine, and unwind in truly exceptional surroundings, as you travel from destination to destination. Perfectly equipped to ensure that you are kept thoroughly entertained from morning until late, there's no denying that the Rotterdam epitomises luxurious and sophisticated cruising.
A TASTE OF HOLLAND AMERICA CRUISE DEALS
More About Rotterdam
Travel the world with a new perspective
Rotterdam will take you on an unforgettable journey of adventure, as you take in the iconic sights and sounds of some of the world's most spectacular destinations. From the Canada & New England Discovery Cruise through to 14 night North Cape Fly Cruise, this journey of discovery will introduce your senses to new landscapes and cultures on land and sea.
Luxurious amenities designed to enhance your cruise experience
This ship is jam packed with exciting amenities and facilities that will enhance your overall cruise experience. Offering exquisite dining, exceptional luxury, and plenty of bars and lounges to keep you thoroughly entertained, you'll be able to cruise the ocean in the optimum style and comfort when you step aboard this magnificent ship.
Onboard amenities include a casino, cinema, and photo gallery, as well as the Queen's Show Lounge, Culinary Arts Centre, and Art Gallery. One thing's for sure, this is certainly a cruise for people with great taste!
A Selection of Onboard Amenities
Casino
Cinema
Crow's Nest
Dance Floor
Neptune Lounge
Photo Gallery
Queen's Show Lounge
Theatre
Lido Bar
Lido Casual Restaurant
Pinnacle Grill
Queens Room
Terrace Grill
The Atrium
The Verandah
Wine Cellar
Art Gallery
Atrium
Concierge
Culinary Arts Centre
Future Cruise Sales
Shopping Gallery
Duty-free shop
Shore Excursion Office
Rotterdam Video
Take a look at this feature packed ship