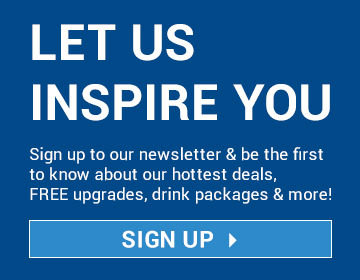 Amsterdam - Holland America
Blending the very latest in shipbuilding technology with the personalised touches and the superior service that has become synonymous with Holland America Line, it's no surprise that this ship is part of a fleet that is recognised as one of the highest-rated cruise lines in the world. Allowing you to discover the world on land and at sea, in optimum style and comfort, this popular cruise ship offers everything you would expect to find on a luxury liner.
The perfect escape from reality, this cruise ship offers a wide choice of amenities, which will ensure that the entire family are thoroughly entertained, all day long. Trust us, no two days are ever the same when you take a cruise on the Vista class Amsterdam.
A TASTE OF HOLLAND AMERICA CRUISE DEALS
Explore the world in comfort and style
Take in the sights and sounds of some of the world's best destinations
Introducing your senses to a captivating array of sights and sounds, on land and at sea, exploring the open seas has never been so exciting! Taking you on an unforgettable adventure to Asia, Seattle, and the Pacific, amongst many others, you will be able to discover the world from a brand new perspective.
Offering the ultimate cruise experience for the entire family to enjoy, this ship will allow you to enjoy an extensive range of amenities designed to make your trip as comfortable, memorable, and pleasurable as possible. When you step onboard, you'll find everything from a Culinary Arts Centre, a shopping gallery, and a Terrace Grill, through to the Explorer's Lounge, Neptune Lounge, and Queen's Show Lounge. It's safe to say that there's plenty of opportunity to relax, unwind, indulge, and shop!
A Selection of Onboard Amenities
Casino
Crow's Nest
Explorers Lounge
Neptune Lounge
Queen's Show Lounge
Rembrandt Show Lounge
Theatre
Lido Bar
Lido Casual Restaurant
Pinnacle Grill
Sports Bar
Terrace Grill
The Restaurant (Gourmet)
The Verandah
Wine Bar
Art Gallery
Atrium
Concierge
Culinary Arts Centre
Future Cruise Sales
Shopping Gallery
Duty-free shop
Shore Excursion Office
Amsterdam Video
Take a look at this feature packed ship