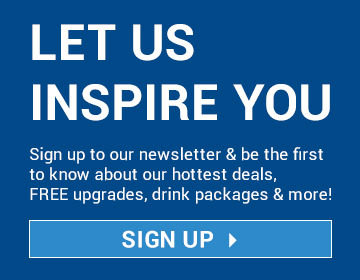 Carnival Conquest
Step onboard Conquest class, Carnival Conquest and experience the ultimate in luxury cruising. The perfect way to explore all manner of exciting destinations, Carnival Conquest allows the whole family to travel in comfort and in style as you set sail into the sunset and experience unique cultures, landscapes, and surroundings. Providing the ultimate environment to gain a new perspective of our amazing planet, Carnival Conquest will allow you enjoy fine dining, exclusive entertainment, and the ultimate in relaxation.
Boasting a brand new onboard entertainment zone, there's no shortage of things to see and do as you make your way from one exciting destination to another. Of course, there'll also be plenty of downtime, where you can relax and unwind, and reflect on your trip of a lifetime.
a taste of Carnival cruise deals
More About Carnival Conquest
Explore the world in optimum comfort
Take in the sites and sounds of fascinating countries such as the Dominican Republic, Aruba, St Kitts, Puerto Rico, and more as you set sail on the Carnival Conquest and explore the delights of the Caribbean. On your journey, you'll be able to explore these exotic locations without the hassle and inconvenience of unpacking your belongings at every stop – simply enjoy our onboard services whilst we transport you to your next, exciting destination.
First class facilities and endless entertainment
Carnival Conquest offers truly first class facilities in exquisite and luxurious surroundings. Explore an array of restaurants and bars, pass time in the comedy club or dance club, and then retire to your comfortable, well-equipped cabin. With a dedicated onboard team ready and waiting to tend to your every request and need, you can be rest assured, that when you embark on a cruise on the Carnival Conquest, you'll experience a world-class service like no other.
A Selection of Onboard Amenities
The Chef's Table
Green Ham & Eggs Breakfast
Steakhouse
Seaday Brunch
Guy's Burger Joint
BlueIguana Cantina
Lido Restaurant
Coffee Bar
Main Dining Room
The Punchliner Comedy Club
EA Sports Bar
Alchemy Bar
BlueIguana Tequila Bar
Playlist Productions
Seuss at Sea
Redfrog Rum Bar
Cherry On Top
Spa Carnival
The Fun Shops
Dance Classes
Casino
Live Music
Karaoke
Carnival video
Take a look at this amazing cruise line!