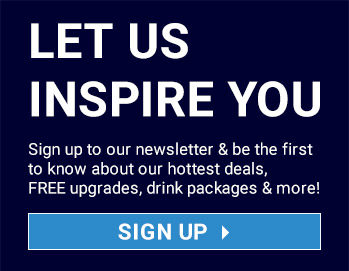 Carnival Magic
One of the newest and largest ships in the Carnival Cruise Line Fleet; Carnival Magic represents the next generation of the line's cruise ships. Designed to cater for the modern cruise industry, Carnival Magic was built using Carnival Cruises' 40 years of experience. Debuting many new features when she took to the seas in 2010; Carnival Magic was the first ship in the fleet to boast the Cucina del Capitano, the stunning Italian restaurant, and the relaxed RedFrog Pub. The second of three Dream Class ships, Carnival Magic is full of family-friendly features and amenities for all ages. Every aspect of the ship has been designed to deliver an unforgettable holiday on the seas.
a taste of Carnival cruise deals
More About Carnival Magic
Entertainment
The entertainment features aboard Carnival Magic are so comprehensive and numerous that you will struggle to decide what to do first. From the Seaside Theatre open-air cinema showing family favourites and Hollywood Blockbusters to the Punchliner Comedy Club showcasing the hottest comics on the seas – the entertainment is varied enough to appeal to all guests and all ages. For those who want to get active during their holiday, the SportSquare on the top deck gives you the chance to enjoy jogging, soccer, volleyballs, pool, football and weightlifting amongst other activities. The fun-filled section of the ship is suitable for all ages and skill levels.
Dining
Whatever your favourite dish or appetite – Carnival Magic is full of comprehensive dining options for the whole family. From sophisticated restaurants such as The Chef's Table to relaxed food vendors such as SeaDogs – the ship can cater for all palates and moods. Families will also be able to benefit from the comprehensive kids' menus available throughout the ship's restaurants – helping even the fussiest of eaters find something they love.
Kids
Unsurprisingly for a ship named magic, there is plenty for kids to enjoy aboard the Carnival ship. The aforementioned SportSquare alongside the fantastic WaterWorks water park make for an exciting top deck providing plenty of chances to run about and be silly. The Camp Ocean kids clubs also allows kids to meet and make new friends. The three age-specific clubs give the kids the chance to enjoy a wide variety of different games and activities from soccer and volleyballs to Ocean Bingo. Where will you go this summer on your cruise - take a look at our August departures.
Carnival Magic Ship Statistics
Class: Dream Class
Homeport: Galveston, TX & Port Canaveral, FL
Gross Tonnage: 130,000
Guest Capacity: 3,690
Crew: 1,367
Length: 1,004ft
Speed: 22.5 knots
A Selection of Onboard Amenities
The Taste Bar
Chef's Table
Oceanside BBQ
Pasta Bella
Burrito Bar
Mongolian Wok
Seaday Brunch
Coffee Bar
Seuss at Sea
The Punchliner Comedy Club
Cloud 9 Spa
WaterWorks
RedFrog Pub
Carnival's Seaside Theatre
Camp Carnival
The Fun Shops
Dance Classes
Casino
Live Music
Karaoke
Carnival Magic Video
Take a look at this feature packed ship
Error