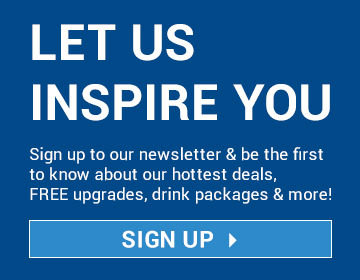 Carnival Fantasy
Bringing together a number of modern conveniences and world-class facilities, the Carnival Fantasy will allow you to escape reality in optimum style! Proving that life at sea is far from dull, this exciting ship epitomises why more people than ever before are choosing to explore some of the planet's most fascinating, exciting, and exotic locations from the comfort of a cruise ship.
Allowing you to explore some of the world's most awe-inspiring destinations, on land and at sea, Carnival Fantasy provides the perfect opportunity to immerse yourself in new and exciting surroundings, cultures, sights, and sounds. Whether you spend your time unwinding at the Serenity Adult-only retreat or feeding your appetite for adventure at Waterworks, an exhilarating water park featuring the infamous Twister Waterslide and Splash Park, no two days are ever the same!
A taste of Carnival Cruise Deals
More About Carnival Fantasy
Explore the western Caribbean
Allowing you to enjoy a unique blend of adventure, sun, and surf as well as an endless supply of rum, fun, and frolics, The Western Caribbean is littered with exotic destinations where you'll be able to make friends with dolphins, dive into turquoise Caribbean waters, and enjoy some of the best tropical beaches on the planet!
An experience like no other
There really is nothing like sailing the open sea, without a care in the world. Everyday is entirely different, treating your senses to a catalogue of new and exciting sights, sounds, and experiences. After all, that's what life's all about, right? And the Fantasy Class ship won't let you down when it comes to satisfying your need for adventure! When you're not busy discovering the delights of the western Caribbean, you'll be able to indulge, mingle, and socialise in one of the ship's many restaurants and bars. Taking the time to ensure that your every wish is granted, the team on board this magnificent ship always goes above and beyond to make sure that your needs are met and your expectations are exceeded.
A Selection of Onboard Amenities
Main Dining
The Taste Bar
Coffe Bar
Mongolian Wok
Lido Restaurant
Sea Day Brunch
Piano Bar
Camp Carnival
Punchliners Comedy Club
WaterWorks
Serenity Retreat
Atrium
Library
Internet Cafe
Art Exhibitions
Video Arcade
The Fun Shops
Dance Classes
Casino
Live Music
Karaoke
Night Club
Twister Waterslide
Mini Golf
Carnival Cruise line Video
Take a look at this amazing cruise line!