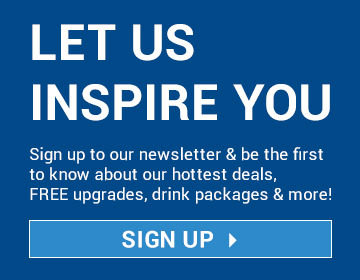 Carnival Paradise
Carnival Paradise is the youngest member of Carnival Cruise Lines Fantasy Class of ships. Proving that life at sea is far from boring, this exciting, family-friendly ship focuses on bringing together elements of fun, adventure, and unforgettable experiences. Jam packed with an incredible selection of family-focused amenities and facilities, step on board the Carnival Paradise and enjoy an range of stage shows, musical and theatrical productions, as well as The Towel Animal Theater, where you can learn how the small towel animals found neatly folded on your bed are made by the ship's towel origami experts. This ship is also a non-smoking environment, allowing you to sail the open sea in optimum comfort.
a taste of Carnival cruise deals
More About Carnival Paradise
Explore and discover new horizons
Allowing you to take in a whole host of exciting destination from across the globe, life on board Carnival Paradise will open your eyes to new cultures, landscapes, and life-enhancing experiences, as you travel from destination to destination.
An outstanding entertainment programme, day and night
This ship places a strong focus on its exciting entertainment programme that will keep the entire family mesmerised, laughing, and thoroughly entertained throughout the entire duration of your trip. There are also a whole host of dining options to choose from, which have been carefully selected to satisfy a range of tastes, palates, and appetites. From the sophisticated menus found at the Chef's Table through to the scrumptious mid-day treats found at the Lido Restaurant, you'll never go hungry as you explore some of the world's most special, far flung destinations. Finally, with a dedicated, experienced, and professional crew on board, you can expect an exceptional standard of service from the moment you embark on your journey.
Carnival Paradise Ship Statistics
Class: Fantasy Class
Homeport: Tampa, FL
Gross Tonnage: 70,367
Guest Capacity: 2,052
Crew: 920
Length: 855ft
Speed: 19 knots
A Selection of Onboard Amenities
The Taste Bar
Carnival Deli
The Chef's Table
Kids Menu's
Green Ham & Eggs Breakfast
Main Dining
Coffee Bar
Seaday Bruch
Swirls Ice Cream
Lido Restaurant
Towel Animal Theatre
Stageshows
Onboard NightClub
Serenity Adult Only Retreat
Twister Waterslide
Piano Bar
Mini Golf
Casino Bar
Spa Carnival
The Fun Shops
Dance Classes
Casino
Live Music
Karaoke
Carnival Cruise line Video
Take a look at this amazing cruise line!