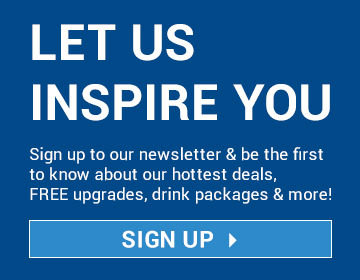 Carnival Inspiration
With its elegant restaurants offering an impressive collection of dining options and an array of on board amenities for all ages, Carnival Inspiration will allow you enjoy a truly magical trip, in sensational surroundings. A sensory overload of the very best variety, this ship will allow you cruise in optimum style and comfort. Boasting all the components needed to enjoy the ultimate cruise holiday, step on board this sophisticated ship and you'll find twisting water slides that are sure to get your heart pumping in the WaterWorks play area, a mini golf course, a Casino Bar, Spa Carnival, and a catalogue of brand new features that really set this ship apart from the rest.
a taste of Carnival cruise deals
More About Carnival Inspiration
Offering a veritable feast for the eyes, every corner of this ship features plenty of artistic flourishes that are sure to captivate your imagination. With refreshing interiors and a great selection of entertainment, the Carnival Inspiration allows you explore the globe and open seas, in the ultimate luxury and style.
Discover far-flung destination that will ignite your senses
Introducing you to some of the world's most special and memorable far-flung destinations, step onboard Carnival Inspiration and enjoy a brand-new perspective of the world as you travel from one destination to the next. Introducing your senses to new cultures, experiences, and colourful scenery, this hassle-free way of exploring the world is sure to change the way you travel forever.
Explore an array of new sites, sounds and sensations
If you're looking for fun, adventure, and relaxation, look no further than Carnival Inspiration. On board, you will be able to immerse yourself in a vibrant entertainment programme that incorporates everything from musicals and theatre performances through to interactive game shows where families compete against each other on giant game boards. There are also plenty of amenities and features to ensure that your little ones are kept thoroughly entertained throughout the duration of your trip.
Carnival Inspiration Ship Statistics
Class: Fantasy Class
Homeport: Long Beach, CA
Gross Tonnage: 70,367
Guest Capacity: 2,056
Crew: 920
Length: 855ft
Speed: 21 knots
A Selection of Onboard Amenities
The Taste Bar
Carnival Deli
The Chef's Table
Kids Menu's
24 Hour Room Service
Main Dining
Coffee Bar
Seaday Bruch
Green Eggs & Ham Breakfast
Mongolian Wok
Camp Ocean
Playlist Productions
Onboard NightClub
Serenity Adult Only Retreat
Waterworks
Seuss at Sea
Mini Golf
Casino Bar
Spa Carnival
The Fun Shops
Dance Classes
Casino
Live Music
Karaoke
Carnival Cruise line Video
Take a look at this amazing cruise line!