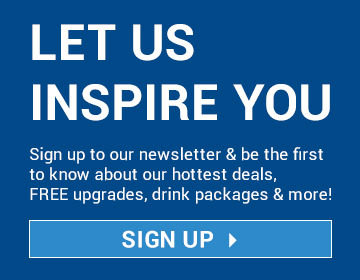 Carnival Miracle
This spirited, lively, and fun-filled ship is perfectly suited for family cruising. Allowing you to enjoy a fantastic selection of family-friendly amenities in truly majestic surroundings, step on board Carnival Miracle and you're sure to make unforgettable holiday memories. From the SKYBOX Sports Bar and Sam's Piano Bar, through to the Carnival Miracle's 11-story metropolis atrium with an awe-inspiring ruby-red glass ceiling, this ship boasts a whole host of exciting amenities and facilities that are sure to be an instant hit with the entire family. Offering a huge range of dining options that will satisfy even the fussiest of taste buds, a wide ranging entertainment programme, and plenty of spots to relax and unwind, the Carnival Miracle provides the perfect environment to make new friends, see the world from a new perspective, and embark on a magical journey of discovery.
a taste of Carnival cruise deals
Carnival Legend

Greek Isles Adventure
5th Sep 21 - 10 nights
Carnival Legend

Mediterranean to Baltimore Transatlantic
31st Oct 21 - 18 nights
Upgrade to oceanview from only £99pp
Carnival Legend

Mediterranean Voyage Fly Cruise
15th Oct 21 - 8 nights
More About Carnival Miracle
A voyage of discovery that will captivate your senses
This impressive ship sets sail to a wide range of destinations, allowing you to discover some of the planet's most extraordinary sights, sounds, people and places, in luxurious surroundings.
Relax, unwind, and indulge in truly magical surroundings
Sure to keep the entire family thoroughly entertained from the moment you set sail, Carnival Miracle boasts a fantastic array of venues, entertainment, and dining options that will appeal to all appetites, moods, and ages. But that's not all. Every room on board the Carnival Miracle is represented by a fictional character such as Long John Silver or Sherlock Holmes – adding yet another exciting dimension to this ship's endearing ambience. Your little ones are sure to love their days at sea too! With lots of Dr Seuss-related activities to enjoy as part of Seuss at Sea, including an on-board character parade, interactive story time, and plenty of arts and crafts to keep them entertained, they are sure to love the cruising experience as much as you. Alternatively, if you would rather wait until the kids are back at school, you can check out our September cruises.
Carnival Miracle Ship Statistics
Class: Spirit Class
Homeport: Baltimore, MD
Gross Tonnage: 88,500
Guest Capacity: 2,124
Crew: 934
Length: 963ft
Speed: 22 knots
A Selection of Onboard Amenities
The Chef's Table
Chopsticks
The Taste Bar
Lido Restaurant
Pizza Pirate
Steakhouse
Seaday Brunch
Coffee Bar
Seuss at Sea
The Punchliner Comedy Club
SkyBox Sports Bar
WaterWorks
RedFrog Pub
Playlist Productions
Alchemy Bar
The Fun Shops
Dance Classes
Casino
Live Music
Karaoke
Carnival Cruise line Video
Take a look at this amazing cruise line!