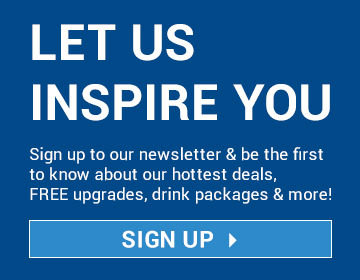 Carnival Imagination
The Carnival Imagination brings fantasy and ancient legends to life throughout the ship with fun-filled décor and flourishes. Stepping onto Carnival Imagination is like taking a step into a fantasy world with limitless opportunities for excitement and entertainment. Wherever you are in the world – the appropriately-named Carnival Imagination provides the perfect setting for play and adventure.
Despite recently celebrating her 20th birthday, Carnival Imagination still captures the hearts and minds of all her cruisers. The ship benefits from a number of Carnival Cruise Line's most popular dining areas and lounges – providing a relaxing setting after a fun-filled day of adventuring. With fun-filled activities and features at almost every turn – the Carnival Imagination is ideal for first-time cruisers and young families. From bustling bars to cool lounges, there is always something to get involved in on the vessel.
a taste of Carnival cruise deals
More About Carnival Imagination
Entertainment
The Carnival Imagination is full of great entertainment venues – playing host to musicals, comedy shows, theatrical productions and more. Whether you are looking for something to do during a day at sea or for some relaxed entertainment following a day excursion – the Imagination's rich catalogue of entertainment suits all moods and occasions.
For guests who like to get involved – there are plenty of options to join in the party. From karaoke to Hasbro, the Game Show – the whole family can get up and join in with the professionals in entertaining their fellow guests.
Dining
Many of Carnival Cruise Line's best-loved and most popular dining options are present aboard the Carnival Imagination – offering everything from the sophistication of the Taste Bar to the specialist dining of Mongolian Wok. For on-the-go bites to eat – the ship also benefits from a selection of delis and pizza joints.
Children's menus are also available throughout many of the ships restaurants and eateries – treating the kids to many of their favourites including burgers, mac and cheese and much more.
Kids
The Carnival Imagination offers a huge range of child-friendly features and activities for all age groups to enjoy. The Camp Ocean kids clubs provides age-specific groups for 2-11 year olds, featuring a wide range of games and activities including Pirate Game Night and sports tournaments.
The Night Owls club gives kids under the age of 11 the chance to stay up late with their new friends under the supervision of trained professionals. Giving mum and dad the chance to enjoy themselves over an elegant meal – Night Owls provides plenty of late-night fun for the kids with music, games and giveaways.
Enjoy a getaway from our great selection of February cruises
Carnival Imagination Ship Statistics
Class: Fantasy Class
Homeport: Long Beach, CA
Gross Tonnage: 70,367
Guest Capacity: 2,056
Crew: 920
Length: 855ft
Speed: 21 knots
A Selection of Onboard Amenities
Mongolian Wok
Carnival Deli
The Chef's Table
Kids Menu's
24 Hour Room Service
Main Dining
Coffee Bar
Seaday Bruch
Green Eggs & Ham Breakfast
Pizza Pirate
Camp Ocean
Playlist Productions
Onboard NightClub
Serenity Adult Only Retreat
Waterworks
Piano Bar
Mini Golf
Casino Bar
Spa Carnival
The Fun Shops
Dance Classes
Casino
Live Music
Karaoke
Carnival Cruise line Video
Take a look at this amazing cruise line!