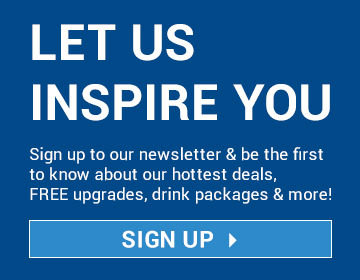 Seven Seas Mariner
One of the most luxurious cruise ships on the ocean, the Seven Seas Mariner is perfectly equipped to take you on an unforgettable journey of adventure, fun, and discovery. This ship is also one of the first all-suite and all-balcony ships to travel to some of the world's most spectacular destinations including Alaska, Canada and New England, the Caribbean, the Panama Canal, and South America.
The ultimate escape from reality, you'll find a whole host of amenities onboard. Whether you spend your days at sea sitting by the pool bar drinking a refreshing cocktail, or you head to the ship's two whirlpools, there's plenty of spots to watch the world float by, taking in stunning scenery.
a taste of Seven Seas Mariner cruise deals
Travel to some of the world's most exciting, far flung destinations
From Buenos Aries to Rio de Janeiro with Iguazu Falls, through to the Miami to Miami cruise adventure, the Seven Seas Mariner will allow you explore some of the world's most iconic natural beauty spots, attractions, and landmarks.
As you travel from destination to destination, immerse yourself in new cultures and experiences that are worlds apart from those you will find on a traditional holiday.
Sleep, relax, and dream in luxury
The Seven Seas Mariner is renowned for its luxurious interiors and commitment to creating a true premium cruising environment.
Featuring glamorous master suites that have been decked out to the highest possible standard, this magnificent ship will allow you sleep, dream, and relax in optimum comfort and style.
A Selection of Onboard Amenities
Culinary Arts Kitchen
Card and Conference Room
Libary
Destination Services
Pool Bar
Pool Deck
Canyon Ranch Spa Club
Boutiques
Casino
Connoisseur Club
Constellation Theatre
Mariner Lounge
Observation Lounge
Stars Lounge
Fitness Facilities
CLUB.com
Coffee Connection
Compass Rose
La Veranda
Pool Grill
Prime 7
Sette Mari At La Veranda
Signatures
Jogging Track
Reception & Concierge
Regent Seven Seas Mariner Video