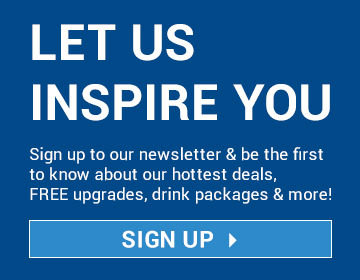 Azamara Pursuit
Dedicated to bringing its guests to all-new locations and undiscovered gems, Azamara Pursuit is a ship for those with a passion for adventure. The 15 new ports, 50 new itineraries, and 73 more destinations make this an unmissable adventure if you're someone who loves to broaden their horizons. Chile, Peru and the Beagle Channel are just some of the locations that are set to delight, and with more time to spend at port, they offer up a relaxed, easy-going jaunt that ensures you won't miss a thing.
A Taste of Azamara Pursuit Cruise Deals
WHY CRUISE ON AZAMARA PURSUIT?
Extraordinary Adventures
Pursuit prides itself on venturing to the off-the-beaten-track locations other ships don't visit. So, what's on the ship's schedule? You'll see relatively untouched places like Pula, Croatia, with its impressive harbour and blue waters; Alghero's fusion of Italian and Catalan influences, storied medieval history and delicious pasta and Antofagasta, Chile: an area of serene desert and dazzling coastline that's a testament to Mother Nature's handiwork. Peru, Copacabana Beach and the fjords of Iceland are all on Pursuit's itineraries.
Intimate Design
Refined and cosy, the design of Pursuit is welcoming, relaxing and surrounds guests with an easy-going atmosphere. With an array of decks to soak up the sun in, a reinvigorating spa that refreshes and recharges, and a cooling pool, Pursuit is a home away from home. The ship itself is ripe for exploration, with an array of restaurants, cafes and lounges to unwind in – we won't blame you if you want to stay onboard!
World-Leading Dining
A culinary adventure awaits guests, whether it's a casual bite or a sumptuous five-course meal. The flavours of Pursuit's destinations inspire its menus, showcasing local flavours and delicacies with an incomparable freshness that proves irresistible to those onboard.
Aqualina fuses Italian classics with contemporary innovations. Here, you'll find everything from lobster ravioli, Venetian seafood and so much more. Don't be surprised to see their chefs roaming the local markets; they love to get inspiration from Pursuit's itinerary! For the meat lover, Prime C stakes its claim as one of the finest eateries at sea, the Discoveries main restaurant is a buffet with a difference, while the Patio and Swirl & Top provides delicious 'pool grill' fare by day and a wonderful al fresco experience by night.
Suites and Staterooms
Contemporary Suites: Travelling the world in a luxury suite is something truly special. Onboard Azamara Pursuit, your chosen abode is a private haven of contemporary design, endless comfort and generous space. From the cosiest stateroom to the grandest Club World Owner's Suites, guests are truly in for a treat. No detail goes unchecked here, providing guests with a home away from home that'll be hard to tear themselves away from. Plus, all guests are treated to an array of gratuities too, including beer and wine, laundry services, shuttles to and from ports and a concierge to use as you wish.
A Selection of Onboard Amenities
Restaurants
Bars and lounges
Spa
Swimming Pool
Wine Tastings
Lectures
Poolside buffets and parties
Shops
Fitness Classes
Find Out More About Azamara Club Cruises