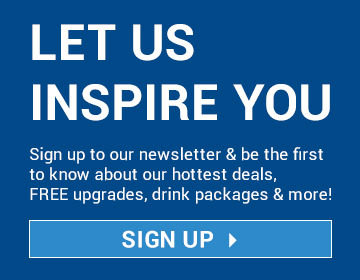 Azamara Quest
If you want to escape the demands that come with everyday life, the Azamara Quest will allow you to set sail into the sunset, without a care in the world. Giving you the freedom to discover the world from a new and exciting perspective, cruising on board the world class Azamara Quest will allow you to explore and discover a catalogue of exciting locations. And this intimate cruise ship is extremely similar to her sister ship, the Azamara Journey - creating the ultimate, warm and friendly atmosphere that will put you at ease from the second you climb on board.
A TASTE OF Azamara Quest CRUISE DEALS
Let us change the way you see the world
Carrying less than 700 guests, this ship provides the perfect environment in which to enjoy relaxing days by the pool or romantic candlelit meals on deck in intimate surroundings. Of course, that's not to say that there won't be plenty of opportunity to get to know other passengers on your journey!
This first class cruise ship experience will allow you to extend your summer by setting sail to some of the world's most exclusive, sun-drenched locations all year round.
Whether you sail to the Caribbean to enjoy endless days of sun, fun, and frolics, or you enjoy more of a refined and luxurious cruise along The Riviera, all Azamara Quest Cruises have been designed to encourage passengers to delve into new cultures and discover a new way of exploring our amazing planet.
Dine, sleep and relax in premium surroundings
Allowing you to sleep, dine and relax in truly breath taking surroundings, step on board the Azamara Quest and you will find superb dining choices, spacious and comfortable accommodation, and an attentive team ready to accommodate your every need.
As part of this premium cruise experience, you will also be able to enjoy a number of complimentary extras such as the AzAmazing Evenings event, a selection of spirits, international beers and wines, as well as a convenient shuttle service available at the vast majority of port communities and a concierge service for personal guidance and reservations.
Suites and Staterooms
Expect nothing short of a luxury boutique hotel as you sail the oceans aboard an Azamara Club Cruises ship. From spacious suites brimming with extravagant extras to a fully-inclusive butler service—a comfortable and luxurious stay is all but guaranteed on board the Azamara Quest and Azamara Journey. Relax in total comfort and feel the benefit of plush cotton robes and slippers, luxury French bathing products, fresh flowers, and 24-hour room service. A full list of suite inclusions is provided below:
Luxurious cotton bed linens with a duvet
Egyptian cotton bathrobes and slippers
24-hour room service and butler service
Complimentary 'About Rose' toiletries
Welcome fruit basket upon embarkation
Fresh flowers
Tote bag
Complimentary use of umbrella and binoculars
Complimentary shoe-shine service
Turndown treats
A Selection of Onboard Amenities
Azamara Cabaret
Cabaret & Stage production
Cabaret Lounge
Casino
Entertainment Team
Martini Bar
Michaels Club
Cova Café
Discoveries Restaurant
Grill
Looking Glass
Martini Bar
Piano Bar
Pool Grill
Prime C
Boutique Shops
Beauty Salon
Facial Treatments
Spa
Swimming Pool
Thalassotherapy Pool
Whirlpool
Internet Cafe
Azamara Quest Video
Take a look at this more inclusive cruise ship