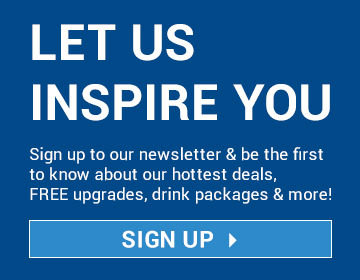 Azamara Journey
Allowing you to set sail in optimum comfort and style, step on-board the Azamara Journey and enjoy a sophisticated cruise service that encompasses award-winning gourmet cuisine, heavenly spa treatments by Elemis, and well-appointed accommodation.
Perfect for escaping reality, the Azamara Journey accommodates 694 guests, allowing you to immerse yourself in truly intimate surroundings. Ignite your senses and get lost in new and exciting lands. Immerse yourself in new cultures and step out of your comfort zone to embrace new experiences. Allowing you to see the world from a new perspective, cruising is a great way to enjoy an all-in-one holiday that encompasses a number of destinations, without having to endure the hassle of constantly packing and unpacking. Explore our cruise deals aborad Azamara Journey below.
A TASTE OF Azamara Journey CRUISE DEALS
The world really is your oyster!
Whether you delve into the colourful and intriguing cultures of Asia or soak up the sun in Bermuda, the world really is your oyster if you choose to set sail aboard the Azamara Journey. Travelling to a diverse range of destinations, this ship will allow you to explore and discover all corners of the globe.
A service like no other
Boasting all the amenities you'll need to relax, unwind, indulge, and socialise in premium surroundings, this unique cruise experience has been designed to meet and exceed your expectations, at every stage of your journey. Dedicated to providing the highest standard of service, our team will ensure that your every wish is granted.
It is this level of service that truly sets cruising apart from any other holiday experience. And, whether you retreat to the on board spa for some much needed me time or you take an obligatory moment to take in the many breath taking views you will encounter on your journey, the Azamara Journey is the perfect setting to create memories that will last a lifetime.
Suites and Staterooms
Expect nothing short of a luxury boutique hotel as you sail the oceans aboard an Azamara Club Cruises ship. From spacious suites brimming with extravagant extras to a fully-inclusive butler service—a comfortable and luxurious stay is all but guaranteed on board the Azamara Quest and Azamara Journey. Relax in total comfort and feel the benefit of plush cotton robes and slippers, luxury French bathing products, fresh flowers, and 24-hour room service. A full list of suite inclusions is provided below:
Luxurious cotton bed linens with a duvet
Egyptian cotton bathrobes and slippers
24-hour room service and butler service
Complimentary 'About Rose' toiletries
Welcome fruit basket upon embarkation
Fresh flowers
Tote bag
Complimentary use of umbrella and binoculars
Complimentary shoe-shine service
Turndown treats
A Selection of Onboard Amenities
Azamara Cabaret
Cabaret & Stage production
Cabaret Lounge
Casino
Entertainment Team
Martini Bar
Michaels Club
Cova Café
Discoveries Restaurant
Grill
Looking Glass
Martini Bar
Piano Bar
Pool Grill
Prime C
Boutique Shops
Beauty Salon
Facial Treatments
Spa
Swimming Pool
Thalassotherapy Pool
Whirlpool
Internet Cafe
Azamara Club Cruises Video
Take a look at this more inclusive cruise ship