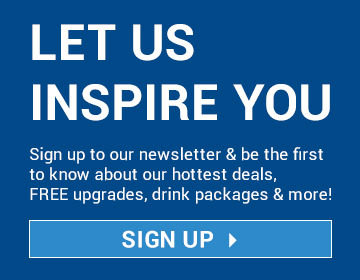 Carnival Elation
From classic cocktails in Gatsby's Bar to fun on the waterslides – the Carnival Elation packs plenty of excitement, despite being one of the smaller ships in the Carnival Cruise Line Fleet. Designed to offer fun for the whole family, the Carnival Elation is perfect for first-time cruisers and experienced sea-farers alike. You can also take a look at our cruises for beginners.
Since 1998, the Elation has been charming and delighting families with fun-filled cruise holidays. The ship has received a number of upgrades and refurbs to ensure it never falls behind in the fast-paced cruise industry. Carnival's Evolution of Fun upgrades have helped the Elation stay ahead of the competition when providing family-friendly cruising for all ages. With a selection of kid-friendly amenities and children's clubs – the Elation is an ideal option for young families looking to holiday on the seas.
a selection of Carnival cruise deals
More About Carnival Elation
Entertainment
Carnival Cruise Line proudly specialise in keeping all members of the family entertained, and the Carnival Elation benefits from a great selection of stage shows from martial arts performances to Broadway musicals.
For the more adventurous and young at heart, the massive Twister water slide sends you racing down hundreds of feet of twists, turns and rapid water. Located on the top deck of the ship – the Twister is the first thing that many people see when they approach the Carnival Elation.
Dining
After a long day of playing and being entertained on the seas – there's nothing nicer than a delicious meal, and the Carnival Elation has all appetites and palates more than covered with a great selection of restaurants and dining options. The classy Dining Room and Taste Bar are perfect for families looking for a sophisticated and elegant evening meal.
Kids' menus are available in many of the ship's eateries, with favourites including burgers, hot dogs, spaghetti Bolognese and pizza – perfect for families of all ages.
Kids
If you're introducing the youngest members of the family to cruise holidays for the first time, the Carnival Elation is a perfect place to start. Carnival Cruise Line's dedication to entertaining every member of the family is noticeable throughout, with attention always paid to the comfort and enjoyment of the children. The Camp Carnival kids clubs are full of fun things to do for children between 2 and 11 years – split into three different age-specific groups.
Carnival Elation Ship Statistics
Class: Fantasy Class
Homeport: New Orleans, LA & Jacksonville, FL
Gross Tonnage: 70,367
Guest Capacity: 2,052
Crew: 920
Length: 855ft
Speed: 21 knots
A Selection of Onboard Amenities
The Taste Bar
Carnival Deli
The Chef's Table
Kids Menu's
24 Hour Room Service
Main Dining
Coffee Bar
Seaday Bruch
Swirls Ice Cream
Mongolian Wok
The Punchliner Comedy Club
Playlist Productions
Onboard NightClub
Serenity Adult Only Retreat
Waterworks
Piano Bar
Mini Golf
Casino Bar
Spa Carnival
The Fun Shops
Dance Classes
Casino
Live Music
Karaoke
Carnival Cruise line Video
Take a look at this amazing cruise line!