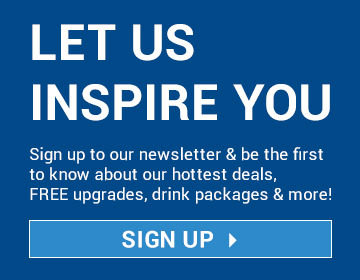 Carnival Triumph
Dedicated to the greatest cities from around the globe, Carnival Triumph epitomised luxurious cruising that is sure to transform your view of the world. The Triumph class, Carnival Triumph is also fully equipped to ensure that family cruising runs without a hitch. With an array of family-friendly activities and attractions, including City Sports Park and a number of pools, you can be rest assured that guests of all ages will be thoroughly entertained whilst on board. You'll probably struggle to drag your little ones away from the Underground Tokyo supervised play space!
a taste of Carnival cruise deals
More About Carnival Triumph
A world of excitement on board
With a whole host of facilities and amenities on board, Carnival Triumph will allow you experience the very best of every corner of the world from the moment you step foot on deck. When it comes to dining, you can expect to experience fantastic cuisines from across the globe, including delicious coffee, cakes, cookies, and pastries at Vienna Café, beach-casual light bites at The South Beach Club, first class chic dining at London or Paris Dining Rooms, and so much more. There are also plenty of lively spots to enjoy a refreshing drink including the Hollywood Dance Club, California Wine Bar, and Oxford Bar. Or if you're looking for a generous helping of New Orleans-style jazz, make sure you check out The Big Easy Bar!
Take in the world's most exciting destinations
As well as allowing you enjoy a variety of on board hotspots inspired by the world's finest cities, Carnival Triumph will also allow you explore some of the most alluring and intriguing countries on the planet. Taking in the unforgettable sights and sounds of the western Caribbean, including stop offs in Cozumel and Yucatan, this first-class cruise ship allows you to explore the world in ultimate comfort and style, without the inconvenience of having to unpack at every destination.
A Selection of Onboard Amenities
The Taste Bar
Chef's Table
BlueIguana Cantina
Pizza Pirate
Green Eggs & Ham Breakfast
Guy's Burger Joint
Seaday Brunch
Coffee Bar
Seuss at Sea
The Punchliner Comedy Club
Dive-in Movies
Twister Waterslide
BlueIguana Tequila Bar
Seuss at Sea
Alchemy Bar
Red Frog Rum Bar
The Fun Shops
Dance Classes
Casino
Live Music
Karaoke
Carnival Cruise line Video
Take a look at this amazing cruise line!