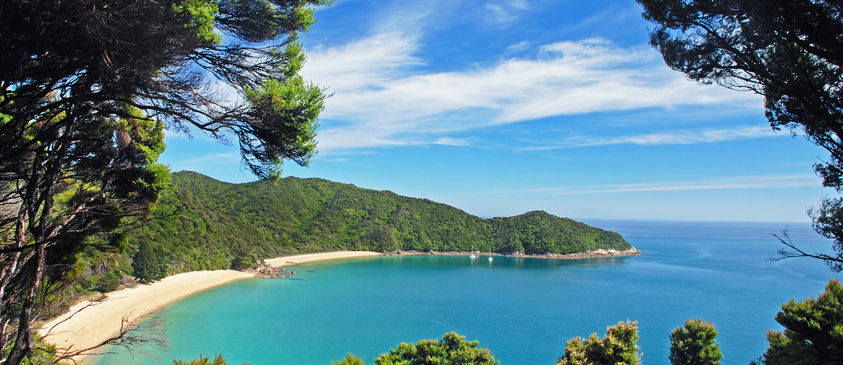 New Zealand Cruises
New Zealand is home to some of the most spectacular natural scenery in the world. Situated in the southwestern Pacific Ocean, this beautiful country has plenty to offer holiday-makers from all around the world. It's no surprise that New Zealand is so popular! Breath-taking scenery blends with cosmopolitan city life and a heart-pounding history in sports to create a truly exciting destination. You can go trekking in the beautiful Fjordland scenery or immerse yourself in the local Maori culture. Wherever you plan to explore, you are guaranteed spectacular views, wonderful terrains, and interesting elements of kiwi culture you will have never experienced before.
The Northern Bay of Islands has some truly spectacular beaches, and the cities of Auckland and Wellington have some of the best restaurants in the world. Seafood is a big speciality here, with an abundance of delicious delicacies on offer. Or if you feel like being a bit more adventurous, you can try bungee jumping, surfing, or kayaking around New Zealand's eye-catching locations.
Whatever you're looking for in a holiday, New Zealand pretty much has it covered. Book a luxurious New Zealand cruise today and you won't be disappointed – we guarantee it!
A Taste of Cruises to New Zealand
Tons of Kiwi Cruise Options
Here at Cruise1st, we have over 20,000 different and exclusive cruise holiday offers, many of which include trips to New Zealand. We have tons of options that can be tailored to suit your preferences, whether it's a whistle-stop tour or a series of overnight stays in some of the country's most treasured destinations – not to mention a fantastic array of New Zealand tours. You can browse through our collection using the handy search tool, look through the NZ-specific deals below, or call us for a more personalised package.
Our experienced cruise specialists are here to provide advice, find a deal to suit your budget, and turn your cruise holiday dreams into a reality. We are only a call away! Get in touch and let us know what we can do to help you plan the holiday of a lifetime. We also have a range of all-inclusive deals, onboard credit offers, and free upgrades available for you to take advantage of. So, what are you waiting for?