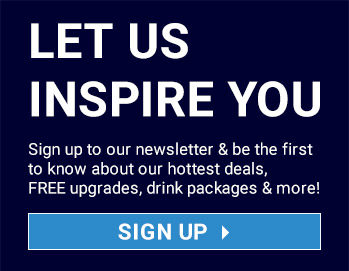 Explore the world with Oceania
Oceania Cruises offer a wide range of exciting itineraries with destinations all across the world. Extensive shore excursions give guests the opportunity to really immerse themselves in all the exciting countries on their trip, with fascinating insights into local history and culture. Expert on-board lecturers give you the opportunity to dig beneath the surface of a variety of subjects and discover new countries from an informed perspective. They are a great example of luxury cruising.
For those who look forward to the culinary delights of a cruise holiday, you can't get much better than the Oceania Cruises experience. Not only do they offer a range of restaurants, including speciality venues that offer a taste of the regions you're travelling to, but this is one of the few cruise lines where it is truly all-inclusive. At no extra cost, you can sample artfully created menus at restaurants that rival even Michelin-starred establishments on land. This is a cruise line where there are lots of lavish on-board amenities, with everything from sipping a glass of vintage wine to surfing the internet is both convenient and affordable.
Your world - your way.
If you want a cruise holiday resplendent with luxury and sophistication, you need look no further than Oceania Cruises. Aiming to reinvent luxury, their ships offer all the freedom of seafaring travel with the unpretentious atmosphere of a stylish country club. Each of its six spectacular ships offers an intimate and luxurious environment, with many travellers returning to the ship after a long day of excursions to the relief and comfort of 'coming home'.
Four of Oceania's ships are near-identical, offering the same sophisticated on-board environment for you to explore a wide range of exciting destinations. The other two ships offer a more social experience, with an increased capacity giving guests the chance to meet a wider range of new people.
Meet The Oceania Fleet
Regatta
Insignia
Nautica
Sirena
Marina
Riviera
Oceania Cruises Video
Watch our video and see what Oceania Cruises has to offer!
Error