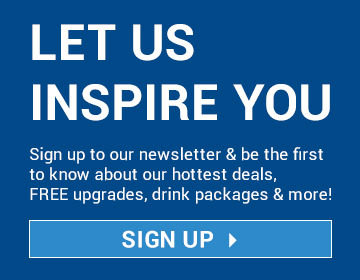 Prinsendam - Holland America
A small intimate ship designed to explore the wonders of the world in style. With a passenger capacity of 835 passengers and a gross tonnage of 37,988, a ship that's full of cosy areas with a feel of a classic yacht, known to be a spacious, mid-sized ship. A ship where most of the staterooms feature ocean views which also have private verandas. Choose to sail to South America, the Mediterranean, the iconic cities throughout Europe and the Black Sea, or visit the Caribbean, it's all there waiting for you to experience.
A TASTE OF HOLLAND AMERICA CRUISE DEALS
More About Prinsendam
The Prinsendam has restaurants throughout the ship that suits every mood. From relaxing by the pool with a delicious lunch to an Authentic Italian cuisine, from an outstanding experience at Le Cirque to a delicious grilled porterhouse steak. Explore the ships tastes to see what suits your style of food. Enjoy the everyday life onboard the Prinsendam, partake in activities all around the ship, do as you please, try something new or if you're just there to relax, take in the sun and relax on a sun bed.
Let's not forget the Lounges & Entertainment, splash the cash and gain more if you're feeling lucky in the casino, or watch thrilling shows in the lounge, maybe visit the piano bar and sing along. That's not it, explore the ships gathering places and see what's best for you. Drink by the pool with a delicious and refreshing cocktail or sit in the late-night lounge. The Prinsendam is there for you to relax and enjoy every part of it.
A Selection of Onboard Amenities
Casino
Crow's Nest
Explorers Lounge
Neptune Lounge
Queen's Show Lounge
Rembrandt Show Lounge
Theatre
Lido Bar
Lido Casual Restaurant
Pinnacle Grill
Sports Bar
Terrace Grill
The Restaurant (Gourmet)
The Verandah
Wine Bar
Art Gallery
Atrium
Concierge
Culinary Arts Centre
Future Cruise Sales
Shopping Gallery
Duty-free shop
Shore Excursion Office
Prinsendam Video
Take a look at this feature packed ship