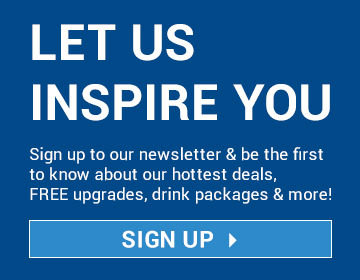 Zaandam - Holland America
Zaandam is a spectacular, award-winning cruise ship that allows you enjoy several spacious public areas, plush staterooms, and private verandas, as well as a whole host of exciting amenities that will ensure that there's never a dull moment onboard.
With its unusual musical theme, you will be able to enjoy an eclectic mix of the world's greatest music, artefacts and memorabilia, from a variety of musical genres. You'll even find musical instruments such as Bill Clinton's saxophone, as well as signed guitars from Queen, Iggy Pop, Eric Clapton and the Rolling Stones on board, adding yet another exciting dimension to your adventure. At the heart of Zaandam, set in a soaring three-story atrium, you'll find a Baroque-style Dutch pipe organ. Inspired by the traditional barrel organs still found on the streets of the Netherlands, this exciting focal point epitomises the Vista ship's musical theme.
A TASTE OF HOLLAND AMERICA CRUISE DEALS
Adventure at your fingertips
Offering fun and adventure in equal measures, cruising is a great way to see the world from a new and exciting perspective. With a whole host of routes and itineraries available, cruising onboard Zaandam will allow you to embark on a journey of discovery like no other. This ship is jam packed with amenities for the whole family to enjoy at their leisure. Boasting a casino, art gallery, shopping gallery, and theatre through to the Pinnacle Grill, Queens Room, and Rotterdam Dining Room, this ship will ensure that you are kept thoroughly entertained, from morning to night.
A Selection of Onboard Amenities
Casino
Crow's Nest
Dance Floor
Explorers Lounge
Mondriaan Show Lounge
Neptune Lounge
Photo Gallery
Theatre
Lido Bar
Lido Casual Restaurant
Piano Bar
Pinnacle Grill
Queens Room
Rotterdam Dining Room
The Atrium
The Verandah
Art Gallery
Atrium
Concierge
Culinary Arts Centre
Future Cruise Sales
Shopping Gallery
Duty-free shop
Shore Excursion Office
MS Zaandam Video
Take a look at this feature packed ship