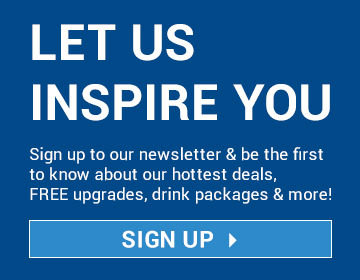 Brazil Cruises
Embark on a once-in-a-lifetime adventure when you cruise to Brazil. Discover a country rich in history, culture and contrasts. From stunning beaches to bustling commercial cities, Brazil is a place of diversity and spectacular experiences.
Most cruises depart from the city of Sao Paulo - the commercial heart of Brazil, and one of the largest coffee exporters in the world. Look out for great bargains from the popular street markets, sample the local cuisine and experience the true passion of Brazil: Football!
Brazillian people are undoubtedly one of the greatest aspects of this incredible destination. Smiling and always welcoming, Brazilians make visitors feel welcomed and add to a truly unique experience.
Expect exuberant nature, sandy beaches, green forests and unforgettable rivers. Dance to the unmistakable Brazilian Popular Music and revel in the vibrant rhythm of the big cities.
What are you waiting for? Book a cruise today!
A Selection of Our Fantastic Brazil Cruises!
A Taste Of Cruises to South America With Land Tours
Why not add one of our exclusive land tours while in South America?
Explore our selection of our land tours!


Travelling Through Brazil
Rio de Janeiro is the most popular destination on a Brazilian cruise. Famous for its wild beaches and Carnival celebrations, explore Sugarloaf Mountain by cable car and never forget looking down on Ipanema, Copacabana and the famous art-deco statue of Christ the Redeemer on Corcovado.
Stroll down the mosaic-tile pavements of Ipanema or Copacabana, and fall in love with the quirky boutiques, enjoy a cold drink in a beachside cafe and taste the great cuisine Rio has to offer! Meat lovers won't want to miss visiting a churrascaria - the home of freshly grilled meats that are served to your table on long swords!
If relaxing on a sun-drenched beach with a cocktail in hand sounds like your idea of heaven, then ports such as Buzios and Porto Belo are most certainly for you! For the water sports enthusiast, head to Geriba Beach and for some relaxing culture, the once small fishing village of Porto Belo will be perfect. This quaint town features a string of beachfront shops and beautiful attractions.
Another port of call on a cruise from Brazil includes Ilheus; tucked in a hidden bay, this colonial seaport offers miles of secluded sandy beaches and coconut groves. Discover chocolate heaven as you visit an old cacao plantation, walk along the cobblestone streets or visit colonial houses as you call at Salvador da Bahia - a city rich in history and African culture.
Nature lovers will enjoy the green mountainous island of Ilhabela, where most of the island is a state park reserve featuring pristine beaches and untouched rainforest. A cruise to Brazil really does offer something for everyone!