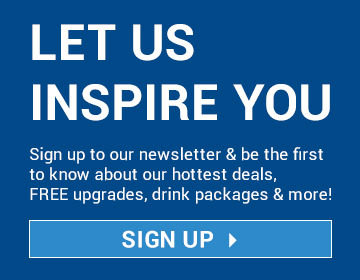 Arctic Cruises
Embark on a journey of adventure as you enjoy a cruise to the Arctic. Discover true isolation as you circumnavigate the North Pole taking in ports in Alaska, Canada, Finland, Greenland, Iceland, Norway, Russia and Sweden. Nature lovers will revel in the wild landscapes and variety of wildlife such as Arctic hares, lemmings, Arctic fox, and caribou and of course the magnificent polar bear.
A Taste of Cruises to Arctic
Arctic Adventures
On a cruise from the Arctic, you will call at ports in Greenland offering a scenic landscape of icy glaciers and wildlife. Call at Nuuk, Greenland's capital and the smallest capital city in the world; here, you can immerse yourself in the local history at the National Museum or choose a shore excursion on offer such as a whale safari where you can enjoy the intimate experience of watching the graceful whales found around the Godthab Fjord. From the port of Qaqortoq you can discover Julianehab with its picturesque harbour and colourful wooden houses backed by spectacular rocky mountains. Spend your time soaking up the breathtaking scenery or visit the Town Museum in the colonial part of town.

Cruise into Nanortalik, Greenland's southernmost town known as the place of polar bears', due to the bears who pass by the town in the summer. The historic part of town is a great place to meet and find out about the local people, culture, food and traditions. The town is also an excellent area to admire the spectacular phenomenon of the Northern Lights and observe the beauty of the majestic granite peaks and spires of Cape Farewell - two highlights of an Arctic cruise.

Enjoy scenic cruising of Prins Christian Sund, a 55 mile long channel offering the chance observe white-beaked dolphins, orcas, Humpback, Blue, Northern Right and Minke Whales whilst passing by steep fjords, drifting ice floes and towering glaciers.

Also on your Arctic cruise itinerary, is the tiny outpost of Ny Alesund in Spitsbergen whose stark beauty of its untouched wilderness is truly awe-inspiring. Wildlife and natural wonders are the main attraction here and you will see polar bears, puffins and other creatures undisturbed in their natural habitat.Other highlights of a cruise to the Arctic include Norway and Iceland.