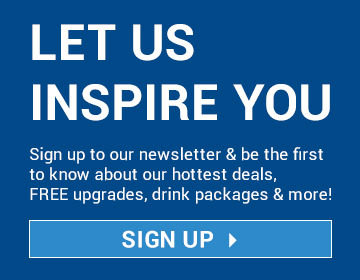 MSC Divina
Cruising around the Caribbean twelve months of the year, the MSC Divina will allow you explore some the world's best white sandy beaches, crystal blue oceans, and colourful landscapes. Bringing together a whole host of glamorous and luxurious amenities, this ship is perfectly equipped to enhance your Caribbean cruise experience. With a dedicated spa service, exquisite restaurants, and luxury rooms, this is by far one of the most relaxing cruise experiences you'll find anywhere. From the ship's magnificent West End sized theatre through to its striking Swarovski crystal staircases, MSC Divina possesses a stylish and sophisticated ambience that few ships can match.
a taste of MSC Divina cruise deals
What to Expect Onboard MSC Divina
Soak up the Caribbean sunshine in style
Taking you to some of the Caribbean's most exotic locations, this ship will allow you to explore paradise islands that will instantly captivate your senses. Allowing you to escape reality in optimum style and comfort, this impressive cruise experience will open your eyes to a world of sunshine, beaches, and palm trees.
Forget about the world in optimum comfort
When you're not soaking up the sunshine on some of the planet's most stunning beaches, you'll be able to immerse yourself in many of the ship's exciting amenities and facilities. Whether you spend your days racing around a circuit on the F1 simulator, take an exhilarating ride on a water slide, or retreat to the acclaimed Aurea Spa to enjoy a Balinese massage, there really is something for everyone on board the MSC Divina. And of course, after all that sea air, it's highly likely that you'll be looking forward to a great night's sleep! All the accommodation onboard this luxurious ship will allow you indulge in the finer things in life from the moment you step on board. With luxury suites in the Yacht Club as well as Balcony Cabins and the ship's Super Family cabins, there's plenty of accommodation available to meet your requirements.
A Selection of Onboard Amenities
4D Cinema
Casino
Disco
Entertainment Team
Open Air Cinema
Theatre
Squash
Jogging Track
Sacramento Tex Mex Restaurant
Italian Restaurant
Mexican Restaurant
Golden Jazz Bar
Main Dining
Tennis
Aurea Spa
Massage
Sauna
Swimming Pool
Whirlpool
Volleyball
Gym
MSC Divina Video
Take a look at this feature packed ship!