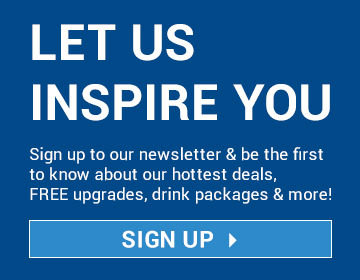 MSC Magnifica
MSC Magnifica will sail directly from the UK for Summer 2021.
There are 24 sailings from Southampton beginning in May and ending in October that will see the introduction of cruises ranging from 2 to 14 nights with brand new varied itineraries encompassing Canary Islands & Madeira, the Mediterranean, Northern Europe and the Baltic Capitals. Most of the 24 sailings will begin on a Saturday ensuring guests can make the most of their holiday experience.
For the first time 100% of the passengers being embarked from the port of Southampton! Cruising from the UK, for the UK!
Combining the relaxed refinement of the Musica Class with the variety and opulence of the Fantasia Class flagships, MSC Magnifica will truly allow you enjoy the best of both worlds. Boasting 5 gourmet restaurants serving up a delicious range of cuisines from around the globe, 12 designer-themed bars, an award-winning MSC Aurea Spa, and a fabulous open-air pool complex with 4 whirlpools, a solarium and a skylit indoor pool with Magrodome retractable roof, it's easy to see why MSC Magnifica is in a class of its own.
There's also plenty for your little ones and teens to do onboard this spectacular ship. With a variety of different themed venues and special clubs, your kids will be able to play, meet new friends, and broaden their horizons. After all, it's important that their cruise adventure is just as special as yours!
Some of our best MSC Magnifica cruise deals
What to Expect Onboard MSC Magnifica
A journey of fun and adventure

Taking you on a fun packed journey of discovery and adventure, a MSC Magnifica cruise will allow you experience the many faces of Northern Europe. Taking in many exquisite beauty spots on land and at sea, this is a great opportunity to explore the world from a new perspective. You're sure to get the bug for cruising.
World-class entertainment

One of the main advantages of cruising is that the fun never stops. From the moment you step onboard, you'll be able to enjoy world-class entertainment, facilities and amenities, morning to night. Whether you try your luck in the onboard casino, dance the night away at the panoramic discotheque, or enjoy a movie at the 4D cinema, there really is something for everyone on board the MSC Magnifica.There's even a plush 1,200 seat theatre as well as lots of live entertainment in the bar lounges.
A Selection of Onboard Amenities
4D Cinema
Casino
Disco
Entertainment Team
Open Air Cinema
Theatre
Fitness Centre
Jogging Track
Bimini Bar
Botticelli Dining Room
Cafe
Canaletto Restaurant
Coffee Bar
Ice Cream Bar
Michelangelo Dining Room
Yacht Club
Grand Prix Simulator
Library
Spa
Solarium
Sun Deck
Swimming Pool
Thalassotherapy Pool
Whirlpool

MSC Magnifica Video
Take a look at this feature packed ship